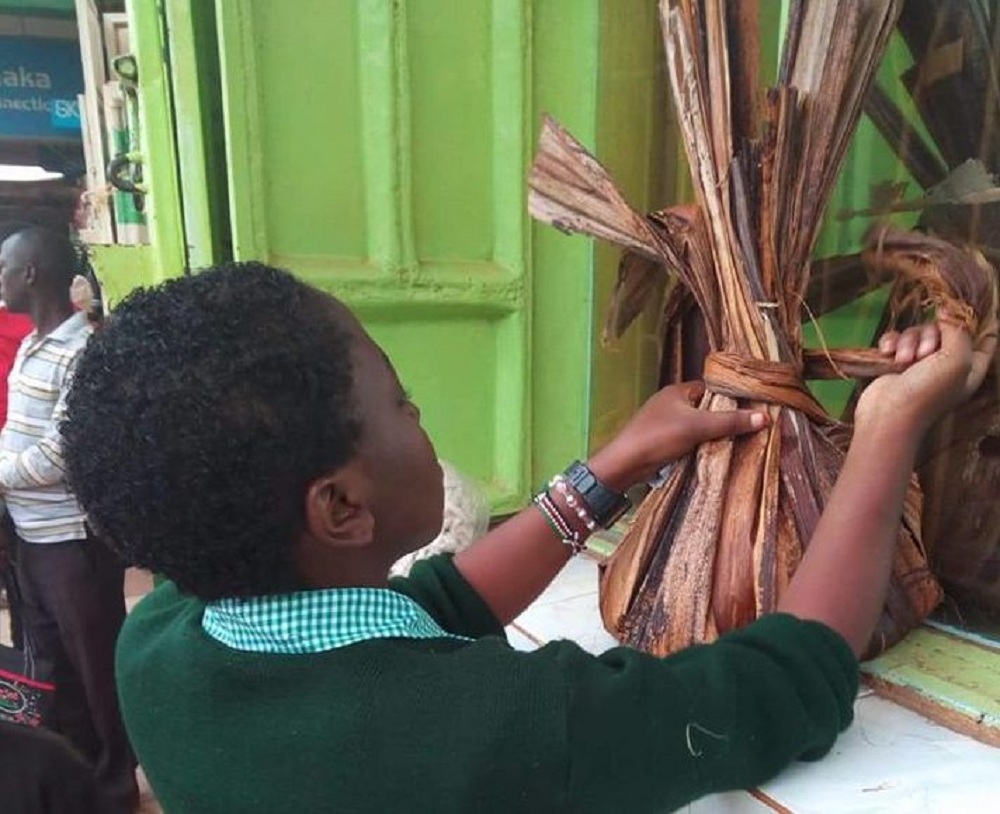 [dropcap]T[/dropcap]he banana fritters bag that has turned an innocent school-girl into an instant celebrity is no strange commodity in her village. At her home in Keria village, Nkubu, Hilda Gacheri says residents use improvised bags regularly to carry yams from the farm.
Dried banana leaves put together can make a carrier, which turned out to be the most 'innovative' eco-friendly bag as the ban on plastics was implemented on August 28th this year.
When schools reopened, Gacheri did not have a bag to carry her items in, and buying an environment- friendly carrier would have cost her money – a resource she was trying very much to conserve. Carrying a plastic bag would have attracted the attention of the authorities.
That is when Hilda went down to improvise a bag from banana fritters. This would save her the time looking for a new eco-bag at the market place too and it is likely she would not have got a cheap one. So, she came up with the simplest method ever that is environment friendly, and could not land her in trouble with the law.
"I love my environment," Hilda said during a phone interview, "I am happy that the plastic paper bags were banned because they do not decompose, ng'ombe zikikula hizo (if cows consume) nylon papers sinagonjeka (they would fall sick), so am happy that sahii hazitatumika tena (they would not be used now).  When you throw away the banana fritters makeshift bag, it can easily decompose and be used as manure."
Hilda, a form 3 student at Materi Girls high school in Tharaka Nithi County, stuffed some of her items in the odd-looking bag and set for school.
Someone took her photos and the images went viral, earning the attention of National Environment Management Authority (NEMA), which gave her an alternative bag and a wooden key ring.
NEMA has recognised her efforts by naming her the brand ambassador of alternative carrier bags. She will use the opportunity to mentor other students and Kenyans as a whole on the importance of living in a clean, safe, secure environment. She is also set to meet with Environment Cabinet Secretary Judy Wakhung'u.
In Kenya, a large number livestock have died after consuming plastic bags. A study by the United Nations Environment Programme (UNDP) released recently ago found that 15% of all cows slaughtered in the capital, Nairobi, had consumed plastic bags.
The bags once consumed by animals over time end up in human bodies after people eat meat, with some researches indicating the plastics lead to cancers, birth defects, developmental problems in children and immune system suppression.
Hilda narrated how her friends found the banana fritters bag weird. "Waliniambia nitupe hiyo kitu ati nakaa mshamba (They told me to throw it away as I was looking primitive)," Hilda said, "Wengine pia waliniambia nakaa mchawi (Some even called me a witch). But I took courage and defended the reason why I'm carrying it. I told them; 'Don't discourage me with my bag, let me carry it. It doesn't matter! Ebu nikae mshamba but najua chenye nimebeba (Let me be primitive but I know what I am carrying)."
When asked whether she still has the bag, she said: "Yes I still have it. I will rock it again when we close school."
She says Kenyans should try this method because it will not only preserve the environment, but also bring more value to bananas. After her pictures went viral on social media, Kenyans proposed that she be the next environment ambassador.