The third season of the Africa Tech Challenge (ATC) has widened its scope beyond Kenya. Some 15 teams have been picked from Technical Vocational Education and Training institutions (TVETs) in Kenya, Zambia, Ghana and Uganda and have undergone intensive technical training to prepare them for the competition.
All these teams are hoping to bag cash rewards, internship opportunities, further training and scholarships to pursue higher education in China. The winning teams in each challenge gets Ksh200,000 ($2000) in cash, as well as full scholarships to study for their Masters' in top engineering universities in China.
This year's challenge is two pronged: a machine and mobile development challenge. In the machine challenge category the participants will use computer numerical control (CNC) and manual lathe machine techniques to manufacture spare parts using AVIC International machines. Here the winners will be those who manufacture the best quality spare parts.
The second category of mobile development allows participants to develop a mobile application of their choice. Three top apps will then be chosen by a panel of experts.
The competition, which kicked off at the Technical University of Kenya on 12th July in Nairobi, will end in October. Participants who have been undergoing training were recently awarded certificates and now they will embark on applying the skills creatively.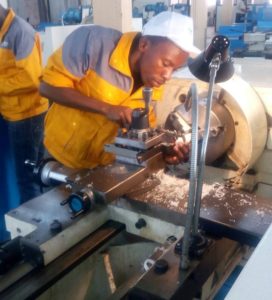 ATC is a corporate social responsibility project run by AVIC International, the Chinese civic engineering firm in conjunction with Kenya's Ministry of Higher Education, Science and Technology.
The Tech Challenge aims to spur a culture of entrepreneurship among youth by encouraging young people taking technical courses to utilise their capabilities and creativity to be self-reliant and create jobs. ATC encourages more people to take technical courses to provide much needed skills that are being lost as a result of an emphasis on theoretical skills, as well as a lack of training capacity as polytechnics get converted and 'upgraded' to universities.
Technical and Vocational Education and Training (TVET) is one of the initiatives key in achieving Vision 2030. It is estimated that to attain the various megaprojects under Vision 2030, the country requires at least 30,000 technologists, 90,000 technicians, and more than 400,000 craftsmen.
Speaking earlier, Bernard Isalambo, a technical education officer from the ministry of education said last year's winners of the ATC got a contract to manufacture machine spare parts for Chinese construction firm, Sunny. This year's winners will get a similar contract as well. "This is proof that we can actually produce for the international market and ATC is helping exploit this potential," he said.
The spare parts were made by a group of final year students at the Technical University, who took three months to get the spare parts ready for export. A number of technical colleges have also benefitted from training, including Shamberere, with about 5,000 of them certified.
Employment creation
AVIC management believes that through this competition the Sino-Africa relations will be strengthened, while stimulating entrepreneurship among African youth. The participants engage in technical courses to attain skills necessary for self-reliance by creatively coming up with projects that encourage employment creation. Above all is AVIC's believe in values that that can transform society – perseverance and determination – all geared at boosting Kenya's industrialisation journey.
AVIC says the Africa Tech Challenge has armed over 290 students with technical skills. The company has also accorded cash rewards and working opportunities for ATCs top performing individuals and groups.
[crp]