AD VOICE
For any visitor interested in enjoying an unobstructed view of Samburu landscape and the beautiful town of Maralal, Samburu Guest House is the place to be.  The hotel has gained prominence in the recent past for its tranquility as it treats visitors to a modern feel in the middle of the tourist's town.
Just 100 meters from Maralal-Nyahururu highway, adjacent to Maralal police station, the hotel is the largest in the town popularly known for its annual International Camel Derby. "We believe the hospitality we provide makes us stand out as the preferred destination for conferencing and accommodation," says Mr Lasito Leleruk, the hotels marketing manager.
Lavish bedrooms, stylish bathrooms, and spacious seating areas create a comfortable relaxing environment to make you feel at home. All the rooms boast views of Kirisia hills located on the Eastern side of Maralal town that lies on the east of the beautiful Loroki Plateau.
The guesthouse also offers a breathtaking view of the Nomotio hills further west across a rough and rugged terrain guaranteed to awaken your senses. At Samburu Guest House its all about nature, authentic African food, ambience, accommodation, professional staff and exceptional service.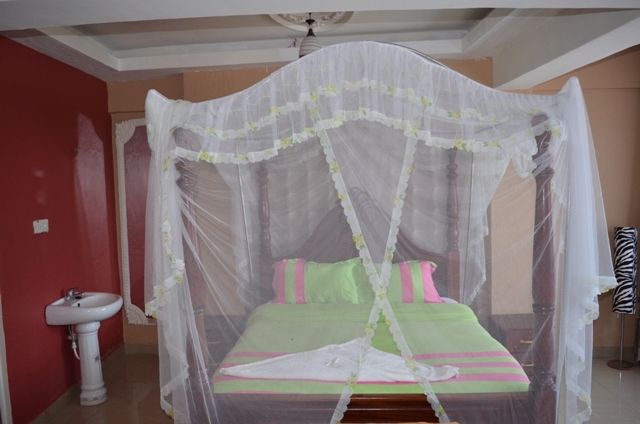 A visit to the hotel last week took us through beautiful suites with African interiors. Suites offer supreme comfort for living, work and entertainment. The living area has comfortable sofas, a coffee table, a kitchenette and balconies. Meeting spaces offer free internet access and are equipped with top of the range equipment.
"Everything we do at Samburu Guest is centred on our guests. We see to it that their experience here is unforgettable," said Josphat Mwangi, the hotel manager. A visitor can customise his or her lunch, dinner and coffee break menus with the help of chefs.
"A trip to our restaurant takes you on a beautiful journey of traditional African cuisine. We also offer extensive breakfast selection and mouthwatering pastries," Mr Leleruk said.
The larger blue and pink hotel with 100 rooms takes the cleanliness award for Maralal. The design of the building is such that no noise echoes through the rooms.
In all directions the hotel gives majestic scenery of Samburu plains whose grandeur is enhanced by its consort with wildlife and by the calm dignity of the herdsmen and their herds.
The hotel can be accessed through Maralal-Nyahururu highway that leads to the hillside town of Maralal, the headquarters of Samburu County.
[crp]