After spending most of last year in the house, you are probably tired of looking at the same walls and are itching for some change. The good news is you don't have to break the bank to do this. Try these quick and affordable tricks to spruce up your space.
Add an accent wall 
A quick coat of paint is one of the fastest ways to freshen up your home. You can even go one step further and create an accent wall using a vibrant colour to give it instant drama and depth. Play it safe and paint the focal wall a few shades darker than the surrounding walls or, if you dare, use a bold colour to add excitement and importance to the room. When deciding which wall to paint, a smart tip is to choose one that showcases another focal point, such as a bed's headrest, a couch or an ornate mirror. Plascon has a useful online colour chart, or try the free Dulux Visualizer app to help you choose the perfect colour.
Decorate untapped corners 
Repurpose what you already have to add style to your home. Decorate empty nooks and shelves with groupings of three of a similar kind of ornament, like decorative bowls or vases. Transform an empty corner with a small narrow table that has a plant on top, or create a vertical gallery space by hanging a row of similar-sized and styled pictures one above the other. It takes just minutes to transform basic, unused spots in this way — plus it adds character to your home by using what you already own and love.
Bring on the green 
Indoor plants are a cost-effective way to instantly breathe life into a home. Get the green aesthetic by placing an elegant orchid in your kitchen, or a palm floor plant in the corner of your sitting room. Plants are also known for their therapeutic effects, with studies showing they lower stress levels. Some plants have fantastic air-cleansing benefits, too. Areca palm is known for its air-purifying benefits, as is Mother-in-law's Tongue, which removes pollutants like benzene (commonly found in paints and other chemical cleaners) and formaldehyde (found in many house cleaning products and furniture treatments). A Spider Plant removes mould and allergens from the air, while Peace Lilies clean air and breathe out oxygen at night, making it ideal for bedrooms.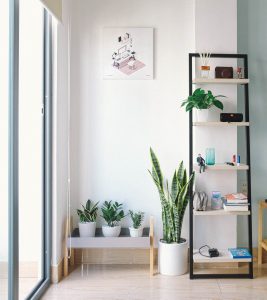 Deep clean
Sometimes you just need a proper deep clean to give your home a new look. Use a steam-cleaner to get rid of stains and smells in carpets (especially important if you have pets). You can also freshen up carpets and rugs by sprinkling them with bicarbonate of soda, letting it absorb for a few hours and then vacuuming it up. While you wait, you can spray any neglected bathroom or kitchen tiles with some diluted bleach, leave it on for a while and then use some elbow grease and a stiff brush to tackle the grouting.
If that all sounds like too much work, or you could just use an extra pair of hands to get it all done, a SweepStar can be booked via the SweepSouth website in seconds. This on-demand cleaning service is now available in Kenya, allowing you to book either a once-off or regular cleaner – the former being especially helpful for big jobs – or take up BG011 Cleaning Services.
Five fast fixes 
Lastly, try these ideas for instant effect:
Replace the pillows on your sofa, but mix up patterns, fabrics and shapes for maximum impact. Unsure how to start? Choose one in a striking pattern, then select others to complement it.

Lay a runner across a bare table to add oomph to a room. If you don't have a runner, use any piece of pretty fabric that can be laid flat. Place an attractive shallow bowl or a big tray on top to complete the look.

Give your kitchen a brand new look simply by hanging up colourful kitchen towels and swapping out drawer and cupboard handles with more elegant ones.

A large statement floor lamp adds chic to any room.

Declutter! Ask any decor stylist and they'll tell you that most rooms just have too much stuff in them. By taking out just one or two items you allow the room to breathe and give the items that remain the chance to really stand out. Rotate the items out to another room, then switch them back in again when you're in the mood for change.