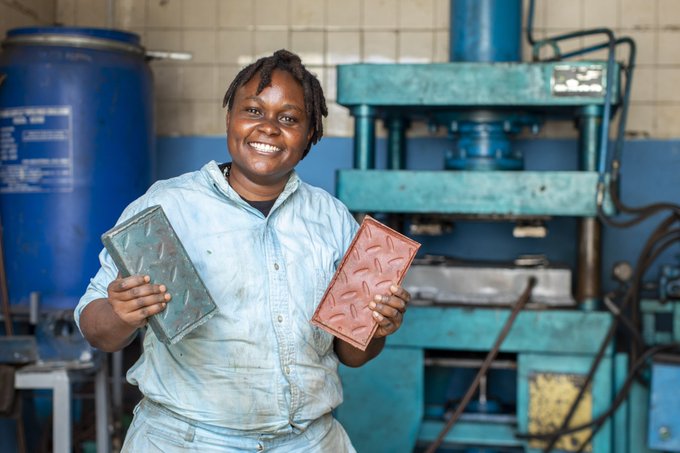 29-year old Nzambe Matee, a Kenyan entrepreneur, is among seven global winners of the United Nations Environment Programme's (UNEP) Young Champions of the Earth Prize for 2020.
Matee is the founder and Chief Executive of Gjenge Makers, a Nairobi-based firm turning waste plastic into alternative, low-cost building materials such as building blocks, tiles and manhole covers
Her social enterprise currently employs 112 people including garbage collectors, women and youth groups involved in different stages of the supply and production process.
The seven winners, all 30 years old or younger, were selected by a jury of global experts following a public nomination process.
Other winners include scientists, engineers and environmental activists behind various environmental solutions.
UNEP Executive Director Inger Andersen hailed the winners, noting that the input of young people could not be ignored when it came to combatting climate change and environmental degradation.
"As we enter this decisive decade where we work to cut emissions and protect and restore ecosystems, UNEP Young Champions demonstrate that all of us can contribute, starting where we are with what we have.
"Every single act for nature counts, and we need the entire spectrum of humanity to share this global responsibility and this profound opportunity," she stated,
Matee's Gjenge partners with various manufacturers to receive waste materials such as plastic bottle tops, seals, offcuts and scraps.
She revealed that many manufacturers were happy to partner with them, as the firms previously had to foot the costs of waste disposal.
At the moment, her company recycles about 500 kilogrammes of plastic waste per day. In total, Gjenge has recycled over 3,000 tonnes of plastic waste,
They use various specialized machines to produce the building materials. For instance, Gjenge has been using a combination of sand and plastic waste to produce paving tiles.
It has a production capacity of 500- 1000 bricks per day. With demand outweighing capacity, the company hopes to scale and make its innovative solutions available across Africa.
Watch a video on Matee below: