Entertainment sites in Kenya refer to her as "Kenya's most beautiful CEO".  Yet 28-year-old Elcy Yosef, the founder and owner of Campia Ethiopian Lounge along Utalii Street in Nairobi's CBD says she would appreciate being known for what she can do, rather than her facial and bodily appearance.
The Lounge has been in existence for five years now. "I started with less than 10 tables and as time went by, we expanded. We are working harder to grow. I interact a lot with my customers and listen to their concerns," she said.
"We have been able to put up a bar, add other services such as entertainment because our clients stay long into the night. As a business person my aim is to take advantage of such situations, to create a conducive and secure environment where people can stay until late in the evening through the night."
"Immediately after completing high school, I got employment. The treatment I got from my employer was not very good, and that prompted me to resign. I was still living with my mum."
"She raised a small amount of money for me to start up a boutique business along Nairobi's Moi Avenue. I just had one shop when I started. Business proved good and I opened yet another stall; so I had two boutiques in a span of one year."
"I saved money so that one day I would put up a restaurant. I have always admired the hospitality business. So when I had accumulated enough seed capital from my boutique business, I put up Campia Lounge."
"Getting a place to put up a restaurant in the CBD is not easy. The thing that puts people off is the goodwill. It wasn't easy to raise goodwill for my restaurant. I don't want to mention the figure but it was crazy!"
"I decided to do Ethiopian cuisine because I have Ethiopian. My mother used to teach me how to prepare injera and other Ethiopian cuisine."
 Customers
"Kenyan market is very good; they adapt to new food and they like trying out new cuisine. My customers are predominantly Kenyans. Once one starts eating Ethiopian cuisine, he will be craving for it every other day. We not only do Ethiopian meals, but also continental – we want to accommodate everyone."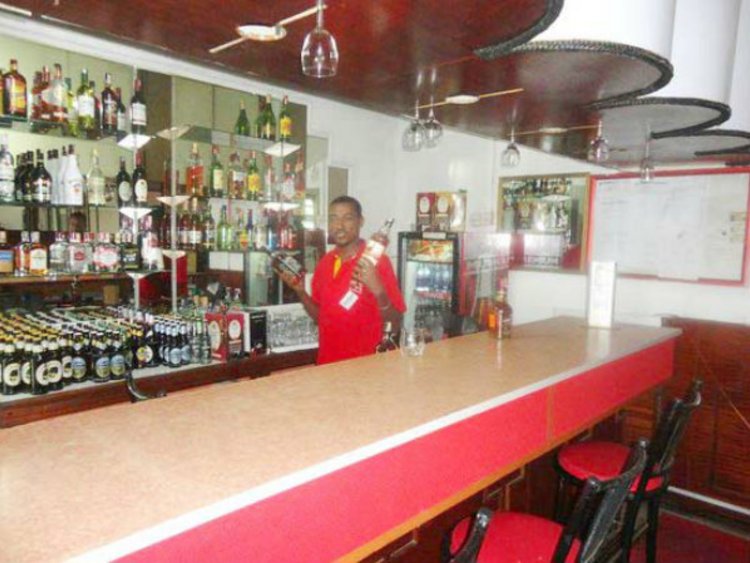 "Most customers prefer mixed dish which is a plate that comprises all our food. Rarely does one finish a whole plate alone – it can serve two to three people. It goes for Ksh 750."
"Our cheapest meal (fries) is Ksh150 and the most expensive is Ksh1,300 (fish). The fish is prepared like nyama choma. It is my favourite meal. We don't fry it in oil. Injera is flat bread that can be eaten with different types of stew."
Elcy's venture has employed 35 workers – ranging from managers to chefs to cleaners. "It is a very good feeling knowing that I have 35 families depending on the business. It is a blessing."
Joho's favourite joint
Campia Lounge is one of the favourite joints of Mombasa Governor Hassan Ali Joho when he visits Nairobi. "We are very privileged to have dignitaries and politicians visiting our Lounge on a daily basis. I charge them the same amount (laughs). We have no separate menu for dignitaries."
Growing up in Eastleigh
"I am the first born in a family of three (two girls, one boy). I was born and brought up in Nairobi's Eastleigh area. Eastleigh unlike today was not known as a business centre back then – there weren't those tall buildings I see today. It was a very cool and good estate.
"That was where I made myself. We had social activities like basketball and a lot of childhood fun. I still visit Eastleigh and I am so surprised everything has changed."
School
She attended Eastleigh Airport Primary School and St. Teresa's High School in Estleigh. "I was a bookworm and quite reserved during my high school days. I remember there's a day some students' names were mentioned during school parade for sneaking out and going for jam session. I never went for a jam session – even once. There was a lot of peer pressure and a lot of my colleagues succumbed to it."
Sportswoman
She loves sports and plays basketball. In high school I was the sports captain.
Lawyer in the making
Elcy's dream was to become a lawyer. But she ended up pursuing a degree in finance at Mount Kenya University. "My parents wanted me to major in the field; and I gave it to them. I graduated in 2010. After that I saw it wise to pursue my passion, so I enrolled at a law school at University of Nairobi. I am currently a second year student."
Good cook
Generally, Elcy's cooking is superb – at least going by the meals she has cooked and this writer has tasted. However, there's one meal that probably would give her a challenge. "I can make ugali for a maximum of five people – more than that, I will need assistance."
Weakness
"My weakness is that when I get annoyed, it spoils my day. I however rarely get mad and I try as much as possible to avoid such circumstances."
Beauty secret
"I jog quite often; I am enrolled in a gym; I make sure I have sufficient sleep every day; I eat a balanced diet and supplement it with fruits – I love pizza, milk shake and junk – but I am watchful on its consumption; I don't take such meals every day."
Fashion sense
"I don't have a stylist. I dress myself. I buy what like, anywhere I see it. I just have taste."
Dating
"I have a man in my life and my relationship with him is very serious. I am almost going to be his wife – soon. He trusts me, he is secure; he knows even if I go out; however drunk I would be, I would go and sleep at my house."
Where men go wrong
"Most men take women casually. Women are like books – develop an interest in them and study them. Women are very easy; they just want to be loved. What she wants from you when she calls you at midnight and you have not shown up in the house is: 'where are you at this time? You know I can't sleep because I have not seen you.'" What is complicated about that?"
Where women go wrong
"The relationship goal for most women today is financially driven. When a young man approaches a woman, the first thing she will look at is: does he have money? If there is money, the relationship will be almost perfect; when there is not, it won't take long before the two break up. A lady should look at the attributes of care, love, protection, gentleness, ambition and support – basically what our mothers used to look out for in a man.
"If a man has the qualities I prioritise then I won't consider his financial buoyancy. If I were single, I would have no problem dating a man who earns less than me.