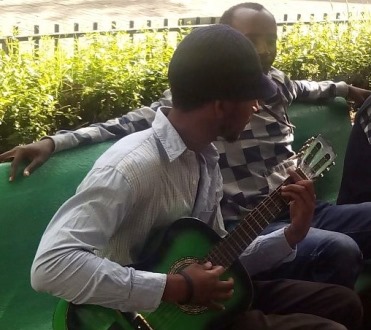 As he sings and plays the guitar, music to his fans ears has turned into a money-making machine for Denis Maina
Given the wildest twirl of the music industry and the time spent by artists wallowing between whether or not to venture into it, music can be complicated just as it can be simple to handle. Composers, producers, performers have the toughest challenge of facing the reality of music as a career or a talent venture that would generate incomes at will.
Many artists have not discovered the secret just yet, of how to make money through entertainment while others have been to hell and back within the industry. "Music as a business doesn't need much money to start, passion and talent is key," says Ghetto Flavor Founder, Denis Maina.
He has mastered the art and is steadily turning his former miseries into fortunes, coupled with God-given talent and the ability to move a crowd through singing. Ghetto Flavor, founded three years ago, is not just a slum band but also a business venture through which its members sustain their livelihoods.
Born and bred in the sprawling Githurai estate of Nairobi, Denis, then a would-be singer, has lived the reality and redefined the direction with which talented artists need to move.
The interesting bits about his life – rapper, casual labourer then back to playing guitar – are just some of the pillars that have shaped his life. "What we experienced in our lives motivated us to start the band. After a while at an exchange programme, I began creating songs," says the 25-year-old, who grew up in the slum.
"If you want to make money through music, you must know people in the industry and those doing what you love," he adds. In a crowded industry faced with myriad of challenges as far as lack of centralised body to regulate production, sale and consumption of music, the industry could be in ruins. There is the existence of several and uncoordinated organisations claiming to represent the interests of artistes but have only added to woes to the likes of Ghetto Flavor band rather than make their lives better.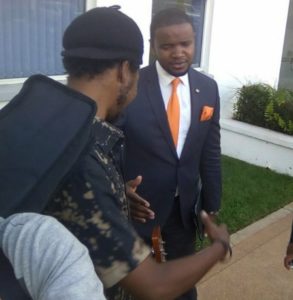 Production of albums has become prey-able by pirates and Ghetto Flavor has not been spared. "The market is crowded with pirates, we try much to secure our work and hopefully we can overcome them," he says.
Ghetto Flavor charges as low as Ksh15, 000 per show depending on the agreement. Denis Maina reveals that their 'pocket friendly' rate has enabled get reach where they are because 'clients keep coming.'
Started as a solo venture, Ghetto Flavor has grown to a band of three with 24-year-old Jessie Ndirangu, percussionist, joining the team recently.  "Everyone's dream is to make it big. So are we. As Ghetto Flavor, we are looking forward to growing our finances and expanding the band just like any other business," Denis says.
However, there is a very thin line between starting up a band for talent and passion and venturing into arts for money. In any case, it is just another form of enterprise that has famed many, such as Maroon 5, One Republic or even the Kenyan Elani bands.
"A lot of artistes do music but forget the business part of it; thus misappropriating anything that comes out of it. Know how to make money through it and it will come," Denis advises.
But what is their secret? "Authenticity, authenticity and more authenticity!" he confides. Unlike some of the artists who struggle to define their scope, Ghetto Flavor sensitises society though their songs and thus remain authentic and original in their work.
Investing in new studio
After a performance at the Kenya National Theatre saw them duly recognised 'countrywide,' Ghetto Flavor band is up and running – from investments to expansion. "Right now we are investing in a new studio where our production is going to be based," he says.
The Ghetto Platinumz Studio will be instrumental to up and coming artistes and will help the band reduce the cost of production.
On the flipside
"As a band, we are proud of the progress but we are not where we should be. In as much as we need to expand the band and market ourselves, we are yet to generate an equivalent income," Denis admits.
The secret behind their success as a band and an enterprise is continuous performances at the Kenya National Theatre where they are spotted by potential clients. Social media is also a key marketing tool to the band.
For a musician hoping to build a sustainable career, here are a few words of advice: "Perhaps the most important step is to control one's own destiny. But remember to value originality in content," says Denis. "It pays big!"



ALSO IN THIS SECTION