Paul Ongili, or Babu Owino as he is commonly known, is the man around which University of Nairobi student politics have revolved in recent years. He joined the university in 2008 to study a degree in Actuarial Science, which he cleared in 2012 with first class honours.
But it is in 2011 that he turned the pages of the University of Nairobi's history by becoming the first self-sponsored student to ascend to the coveted position of SONU chairman, replacing David Osiany.
His tenure ended a year later when he graduated, and DMK Kiogora and Zack Kinuthia held the position one-term each, in 2012 and 2013 respectively. In 2013 Babu enrolled for a bachelor of law degree, and as expected he contested and won the April 2014 polls, a position he has held to date and doesn't seem keen on relinquishing.



In his words, he is a (Paul) Kagame and looks at serving his five terms, or he may step down in 2017 to go contest for the Embakasi-East Parliamentary seat. After all, the SONU constitution doesn't bar him. He can still hold the two positions at once should he not find a "worthy successor", he says.
A chairman for life, sort of. This has not augured well with other ambitious students who have criticised his leadership and this year gave him the strongest yet challenge this year.
See Also >> UoN closed after student riot protesting rigged elections
The 35-year-old flamboyant student leader describes himself as businessman; and he ends it there! Little is known about his business and sources of his vast wealth. Those who knew him a while ago say he came to the city a pauper with very little to place his name on. He speaks out fearlessly (and carelessly except when the President is around) and most of his words border on the unprintables.
He sees himself as students' defender number one. He is outspoken, generous to fault but some see in him a corrupt power angry dictator, a con who manipulates everyone and everything.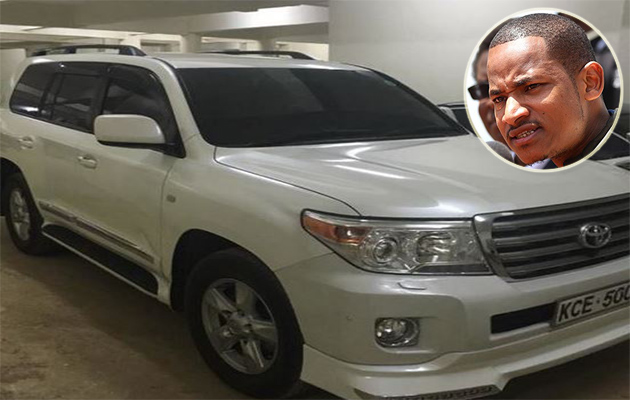 When we interviewed a number of students, they confided that Babu is a man hated, loved and dreaded in equal measure. They allege that his political rivals have borne the brunt of opposing a mafia-like incumbent. They say the student leader has a bunch of goons at his disposal, which he unleashes them on anybody he considers a threat.
For instance among others, there is a video footage showing him assaulting one Mike Jacobs. The university administration also fears him. It's alleged that the  Vice Chancellor Prof Peter Mbithi outdoes his predecessor Prof George Magoha in  dancing to his tune.
Babu Owino spends a fortune to win SONU elections. On April 1st, 2016 he was declared the winner yet again, beating his closest rivals Suraj Mohamed and Mike Jacobs and sparking protests that led to the closure of the Nairobi University today.
Those close to the outspoken student leader who has been branded a career student by critics, say Babu Owino is a man of means and his flamboyant lifestyle speaks for itself.  In an interview with Standard Digital, he claims that he only earns Ksh6,000 allowance as SONU leader.




So why does he fight for the post so much?
"I ran for this position purely because of my hunger to serve comrades. I ensure that SONU money is used in bursaries for needy student and in our secretariat and Parliament,"  Babu Owino is quoted saying.
He also revealed that Uhuru Kenyatta's personal assistant Jomo Gecaga is a close friend and business associate, which could partly explain Owino's source of cash. Controversial businessman Paul Kobia also contributed Ksh2 million to Babu Owino's campaign this year, which saw him declared winner of the controversial election.
A section of students accuse him of having rigged the election and that unless he steps down, they won't give up the fight.
The University (amendment) Bill tabled in Parliament by  Aden Duale, if passed and assented to will make university student leadership a one-term affair, thus ending 'Babuisim'. Until then the Jacobs and Surajs will have to content with their worst rival.