Jazza Centre, an idea that hatched by one career couple just four years ago, is spreading to every corner of Kenya. And it is churning out competent domestic assistants, giving many households a peace of mind.
In 2013 Joseph Gichunge and his wife Leah Imaita co-founded Jazza Centre, a domestic workers training centre, out of their own frustrations with house helps. After many tries, they decided to train their own domestic assistant and were impressed with the results. Gichunge says the idea of training more and consequent commercialization of the idea hit him when he realized more and more people needed better service delivery at their homes.
Fast forward and you have a fully-fledged employee training and leasing firm focusing on domestic workers such as nannies, cooks, gardeners, office tea-girls and office assistants.
With admissions of trainee domestic workers growing from 20 to 100 a month, Jazza Centre has increased its internal staffs to over 20 to that include trainers, customer service and Quality assurance & supervisory. Gichunge says the steady growth in numbers came with the called for.
"We have managed to secure an even more spacious premise with a bigger capacity and can train up to 100 domestic assistants every month who are boarders. At times we may not have a complete class but at least we have 50 and 80 or more every month," he says.
The one-month training focuses on child care, cookery & nutrition, first aid, home safety, laundry, basic home management, personal financial management, communication skills,  self-awareness and efficacy among other areas.
The home management course, for example, offers a holistic training that imparts knowledge on efficiency in handling various home assignments. This includes addressing every aspect of a modern home set-up. Jazza Centre has also moved a notch higher to provide a solution to offices by offering an all-round tea-girl.
"This is not the traditional tea-girl.  A Jazza tea-girl is more of an office assistant, able to take care of cookery, undertake basic office-work like organising the boss's office and the rest of the team in an SME or corporate setting. She can also clean and dust the surface, make sure that the office is tidy. With excellent customer care skills to boot," says Gichunge.
What's more, the trainers asses the individual strengths of each trainee and direct them to an area that they are most inclined to. "We re-interview them further to ascertain the area which they are good at. Is it childcare? If you are children's person, we align you to that and so on," he adds.
Their target clients are mostly professionals in the middleclass and high end, young career individuals or anybody keen on getting professional domestic service.
Gichunge says getting a domestic assistant is very simple: "Once we receive your enquiry with details of your set up, our team readily prepares the right person for you. It can also be done through the institution's website:www.jazzacentre.com. Or a walk to the offices at Muthaiga or the training centre on Kiambu-Runda.
The institution also has a quality assurance team that handles any work-related conflict, ensuring the Jazza standards of client satisfaction are upheld.
A Jazza a domestic manager (DM) will cost a client from Ksh12,600, depending on the expectation of the client and the home set-up. Jazza intends to spread its wings to the East African region then the entire continent to improve domestic service delivery and create employment. "Locally we intend to replicate this in all the major towns in Kenya, having taken care of Nairobi. We have a branch in Kisumu running with a 20-30 training capacity and soon we will be going to Mombasa," he says.
At Jazza individuals are not measured using the academic prism alone, but character and attitude.  As long as you are 18 and above and have a positive attitude towards domestic work, you can enrol for training with the facility. Homes being sensitive an individual's character is of great essence. As such the right character and training are key.
"Anybody and especially the working class, can benefit from our pool of qualified DMs. Everybody deserves quality domestic service and the place to find that is Jazza."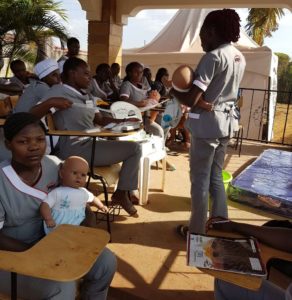 Jazza Centre offices are located at Muthaiga and Runda. To inquire about domestic workers or enrolment call 0723811114 / 0732811114 or email: [email protected]
[crp]