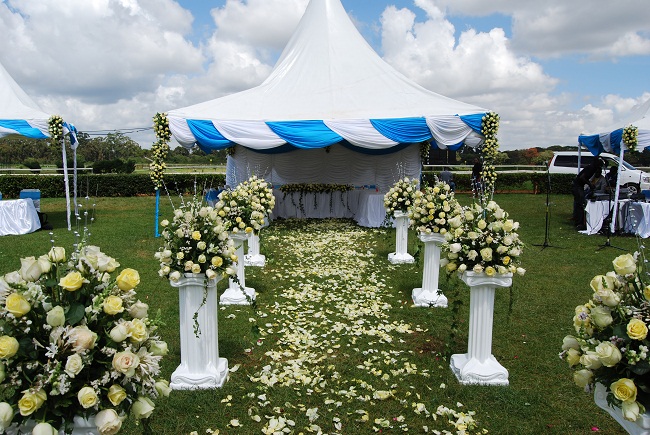 Wedding bells are ringing, Christmas is around the corner and the New Year waits its turn.
It is the festive season in Kenya, which also coincides with wedding peak season. Hundreds of couples are tying the knot and this is giving local hoteliers in Nairobi a massive boom.
Despite many holiday makers preferring Mombasa as a holiday destination, the peak wedding season in Kenya that begins in August to December, just before the Christmas holidays, gives hotels in Nairobi massive business.
PrideInn Westlands General Manager Mr. Andrew Makau says that weddings and corporate end year events are some of the activities which have been keeping hotels busy during this season when majority of holiday makers prefer coastal destinations.
Quite literally, wedding events and end year parties are keeping Nairobi hotels afloat.
"Despite Mombasa attracting more holiday makers compared to Nairobi, we are not badly off as a result of many weddings, bridal showers, baby showers and corporate end year activities," he said.
READ : GLOBAL HOTELS SEND PRICES OF WESTLANDS APARTMENTS THROUGH THE ROOF
The hotelier industry in Nairobi is providing business opportunities to hundreds of wedding planners, florists, high-end vehicle car hire companies, photographers, decor specialists, venue owners, music bands and beauticians, all who have a variety of special wedding packages to cater for couple's needs.
"We must ensure that we get as much business as possible before the end of the year since in January, things will slow down," said Mr. Jackton Amutala, the Nairobi Regional Manager at PrideInn Hotels.
"The number of weddings increase as the months go on. December is usually the peak but business is good currently. The demand for venue and catering services will surge in the next one month as couples seek to do their weddings before the year ends," he added.
Mr. Amutala says that since October, the hotel has been hosting at least two weddings each weekend.
"Come December we may hit over four weddings in a weekend, mainly Saturday. Some of them are outside our venue where we are sourced to provide our wedding outside catering services," he said
The wedding industry continues to attract many entrepreneurs given the fact that weddings in Kenya have now become a way for couples to impress their friends and peers. Widespread internet use, especially social media channels such as Instagram, Twitter and Facebook, have helped to launch the industry to new heights.
Statistics estimate there are more than 5 million weddings that take place in Africa every year. This sees large African cities spruced up with pomp and color, especially on weekends, as numerous weddings take place across various parts of the city.
African weddings remain the single most expensive and important event for many families on the continent.
SEE ALSO : THE WORLD'S BEST AIRLINES RANKED