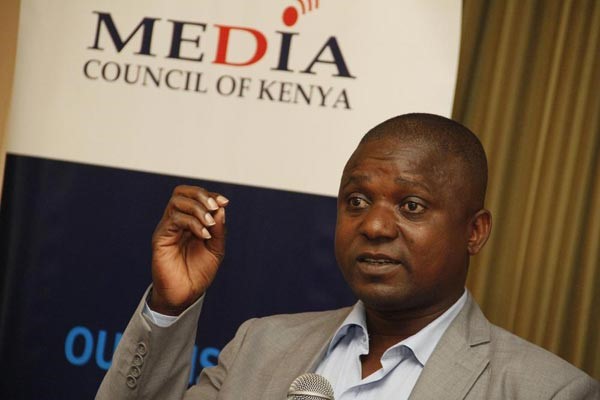 Journalists in the country have been told to familiarise themselves with the 'Code of Conduct for the Practice of Journalism in Kenya,' to enhance professionalism and minimize litigation.
Deputy Chief Executive Officer at the Media Council of Kenya (MCK) Victor Bwire, said most complaints reported to the council against journalists arise from flouting the Code of Conduct, which he attributed to ignorance. As a result, he said some media houses have paid heavy fines in litigation cases.
He warned that MCK will soon decline renewal of media accreditation for journalists who exhibit ignorance of the Code of Conduct, to ensure compliance.
Speaking to journalists and media experts from academia at a media workshop in Nairobi, Mr Bwire regretted that jobs in the media industry are largely being given to people who have no training in journalism at the expense of the trained professionals.
RELATED: LILIAN MULI'S INSENSITIVE QUESTIONS ANNOYS CITIZEN VIEWERS
He noted that this has affected the profession negatively, with many young, trained Kenyan journalists remaining jobless, and those aspiring to join the profession changing their mind to engage in other activities.
Mr Bwire said that although the Media Act states that for a person to be employed in a media house, the Media Council of Kenya is supposed to approve, this is not followed by media houses. He further urged media houses to expose editors, sub-editors, programme controllers and producers to journalism training.
He said the variance in subject matter understanding between editors, sub-editors and journalists affect content because journalists are sometimes more knowledgeable on the matters they write about than the editors.
Mr Bwire challenged journalists to be sensitive when they interview sources experiencing stressful situations, noting that failure by journalists to read the mood of some situations while conducting interviews has occasionally attracted animosity and violence against them.
Freedom of expression granted by the constitution does not provide the right to infringe on other peoples' rights, he said, and therefore media must self-regulate itself.
Mr John Gachie, a media trainer and consultant on safety and protection of journalists and Chair of the Article 19 East Africa Board, said journalism is among the five most dangerous professions in the world. He urged journalists to be conscious of their safety and take necessary precautions to avoid subjecting themselves to physical, health or psychological danger.
SEE ALSO: PARLIAMENT SPEAKER SUMMONS JOURNALISTS OVER BRIBES
Nancy Booker, an Assistant Professor of Multimedia Journalism Graduate School of Media and Communications, Aga Khan University, said majority of people get information from the media, hence media needs to highlight more health issues because they are matters of 'life and death'.
Booker regretted that there are fewer reporters compared to the expected media deliverables, hence the few undergo more pressure to achieve quantity than quality stories.