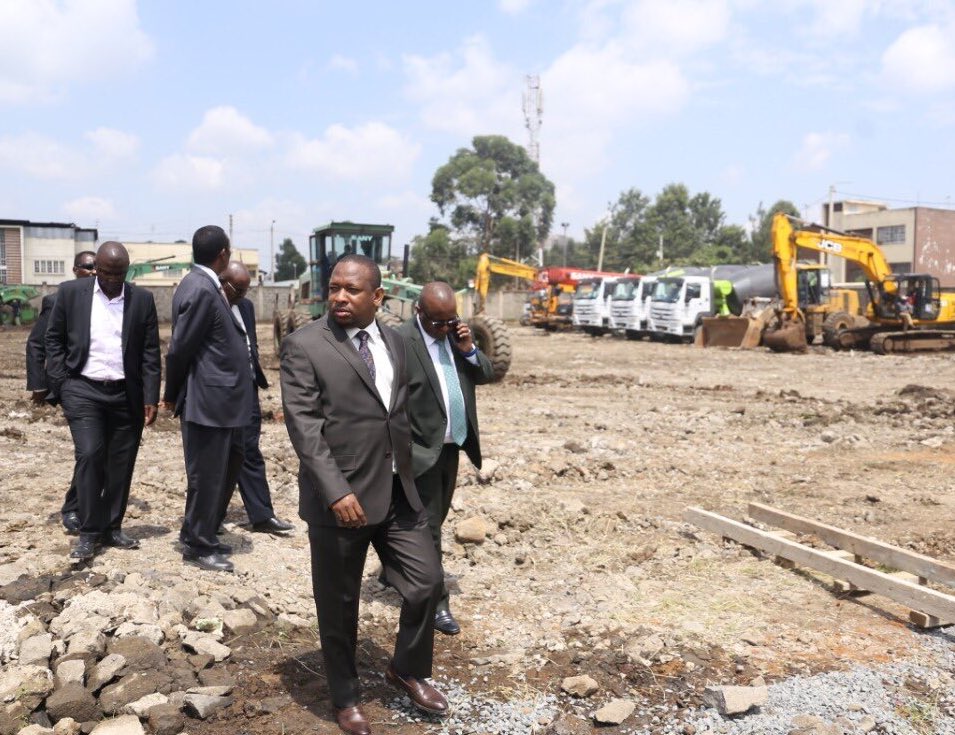 President Uhuru Kenyatta has stopped the ongoing demolitions in Nairobi until next month pending stakeholders engagement.
The move follows the demolition of multi-million buildings in Nyama Villa, Kayole which has rendered hundreds of people homeless with some being forced to move to the nearby Soweto slums in search of cheaper accommodation.
Investors who had put up the houses on the land, which is being claimed by Muthithi Investment, owned by Mike Kamau Maina, the proprietor of Marble Arch Hotel in Nairobi, are counting their losses as they could not salvage anything as no notice was issued before excavators with heavily-armed police officers in tow descended on the area in the wee hours of Tuesday.
Those who attempted to salvage anything were repulsed by the police who fired teargas canisters at them paving the way for crooks to later steal doors, windows and other furnishings they could land on.
Most of the tenants could also not carry everything in their possession as no vehicles was allowed in. Some of those affected said the President's move was "too little, too late."
It has also emerged that some tenants had travelled upcountry, meaning all their possessions have been lost.
Nairobi Governor Mike Sonko visited the area on Thursday and ordered a stop to the demolitions. He directed that the excavators be moved out.
Earlier, Sonko met victims of the Nyama Villa demolitions who had sought shelter at City Hall and said he had spoken with President Uhuru, who has been in Vienna, Australia, and agreed that no demolitions should take place during the festive season.
Nairobi Women Representative Esther Passaris, who had decried the crude manner in which the operation was conducted noting it is women, children and the elderly who suffer most, had earlier thanked President Uhuru for the gesture.
Dear Mr President @UKenyatta, on behalf of the affected tenants and landlords in Nyama Villa, I would like to say Thank You for stopping further demolitions until January to pave way for stakeholder engagement. I'll be back in Kayole tomorrow to confirm your intervention. pic.twitter.com/nlwZxsrQa8

— Hon. Esther M Passaris (@EstherPassaris) December 19, 2018
The Women Rep has been at the forefront in opposing the demolitions and acknowledged working to attract media attention even as some criticised her, saying she was opposing a legitimate court order. She, however, remained defiant, saying those affected had a right to redress.
Demolitions have been halted.We created enough hype to ensure #NyamaVillaLandGrabbing got the media attention and coverage across social media platforms to salvage what we could pending court action. More questions than answers. Irreconcilable pain and suffering to many Kenyans. https://t.co/7ImZMQ3eFh

— Hon. Esther M Passaris (@EstherPassaris) December 19, 2018
When you at the receiving end of state sponsored lawlessness remember this text. The law can sometimes be an ass. https://t.co/ei6V2YAULB

— Hon. Esther M Passaris (@EstherPassaris) December 20, 2018
The President I was informed by the area MP had put a freeze on demolitions over this festive season which would give the residents of #NyamaVillaLandGrabbing a break to seek redress. But sadly it seems like it's business as usual. https://t.co/GQ1Q16XV5j

— Hon. Esther M Passaris (@EstherPassaris) December 20, 2018
On Tuesday, Benjamin Gathiru, the Embakasi Central MP, attempted to stop the exercise but was arrested and driven away.
Embakasi East MP Babu Owino had, meanwhile, offered to mediate between the parties involved in the Spirit of Christmas.
In a statement, he said 600 various residential and commercial buildings were set to be demolished in the Embakasi area.
"I am deeply concerned that this exercise will largely affect the greater Embakasi area pointing to a history of bad leadership that allowed the exarcebation of this problem. That notwithstanding, I would like to make a special appeal to all parties, in the spirit of the Christmas season, to agree to resolve issues at the negotiation table as opposed to inhumane demolitions that leave children spending nights in the cold 2,000 years after the birth of our Lord Jesus Christ who also spent Christmas Day outside in a manger," he said.
"Let us not lose sight of the values that make us Kenyans, the values of Harambee which means "coming together." I urge everybody to embrace dialogue and I offer myself to serve as an impartial mediator. In closing, I wish to condemn the blatant culture of corruption in government that has created this problem for wananchi. It is heartbreaking to witness the same government that issued permits for construction destroying the same buildings it allowed. It is further disappointing to hear of unscrupulous Lands officials engaged in the illegal duplication and sale of title deeds to property that already has owners," added Owino.
The MP called on the Directorate of Criminal Investigations (DCI) and the Ethics and Anti-Corruption Commission (EACC) to move with speed to investigate the criminals behind the allocations and approvals without fear or favour.
"It is clear some of the criminals are in government and they must all be brought to book. The time for joking with the lives of Kenyans has come to an end," he said.
The demolition exercise was sanctioned by Environment and Land Court Deputy Registrar on September 17.
READ: IMPERIAL BANK DEPOSITORS GET ACCESS TO THEIR FUNDS
Muthithi Investment had secured a favourable High Court order a few years ago but the government at the time asked them to go for an out-of-court settlement. However, Maina, a reclusive billionaire, is not known in the area and even during the demolitions, the police could not point out who the owner of the land was, only stating they were effecting a court order.
There are also claims he is part of a group of individuals behind various companies, which own various parcels of land in the area and are seeking orders to demolish more houses.