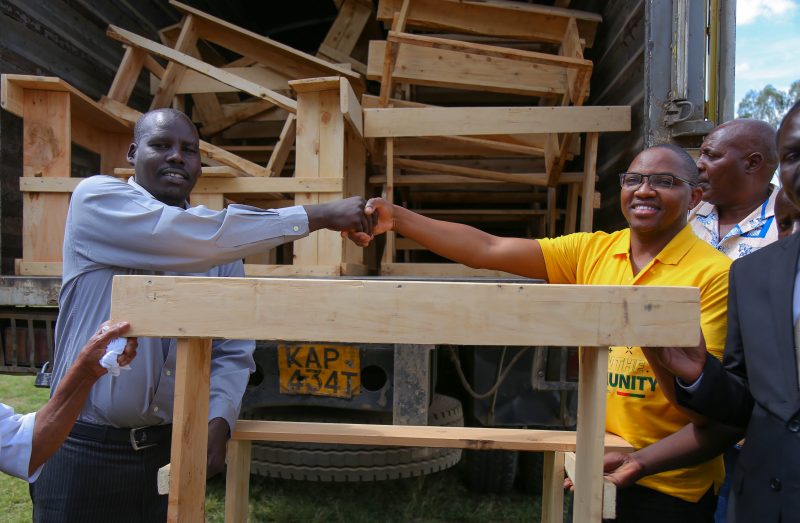 Regional retailer, Tusker Mattresses, (Tuskys), has kicked off a long term social and economic impact initiative which the retailer says is geared at improving the plight of disadvantaged communities.
The project was launched in Nakuru County on Monday September 10 and is dubbed: 'Tuskys in the Community'. It is designed to celebrate the legacy of Tuskys founder, the late Mzee Joram Kamau. It will be rolled out an at estimated cost of Ksh30 million.
The initiative's key priority programmes are in the areas of e*******n and early childhood development among others, said Tuskys in a statement.
During the launch of the initiative, Tuskys leadership presided over the formal handover of the firm's donation of learning aids and related educational materials to Lengenet Primary School. The event was preceded by an inter-denominational thanks giving service at Tuskys Imani Branch, in Nakuru Town.
Lengenet Primary School is where all of Mr. Kamau's children received their early e*******n.
Speaking during the event, Tuskys Group CEO Mr. Dan Githua said the firm would continue rolling out the Tuskys in the Community initiative as a sustainable j***t community impact programme featuring Tuskys staff, suppliers and customers wishing to make a difference.
READ : KRA DESTROYS 728 BAGS OF ILICIT SUGAR WORTH SH2 MILLION
The Tuskys in the Community initiative, Githua added, is geared at providing a platform to meaningfully connect further with our customers beyond business by touching their lives and alleviating social and economic challenges.
"As an organization, we are investing more than Kshs 30million to kick off the Tuskys in the Community platform which will afford us a structured path to make a difference in the society," Githua said.
The Tuskys CEO added,"Through the initiative, we shall be living the values left behind by our founder Mzee Joram Kamau."
SEE ALSO : WHY JACK MA IS STEPPING DOWN FROM ALIBABA
The Tuskys in the Community initiative will also be staged in other regions in the country namely including; Nyanza, Coast, Thika and Meru.