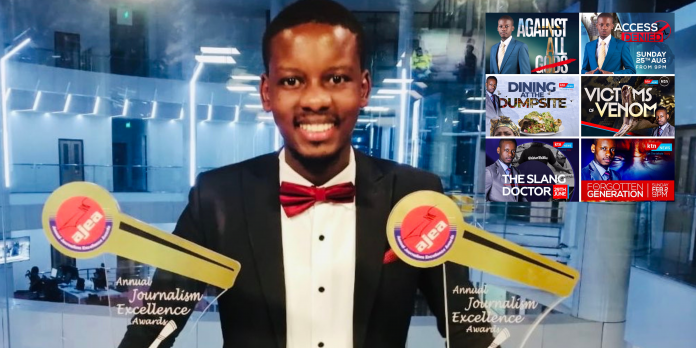 KTN anchor Timothy Otieno was the big winner at the 2021 Annual Journalism Excellence Awards (AJEA) awards, crowned Journalist of the Year and also walking away with the award for Good Governance Reporting.
The 28-year-old has become a recognizable on-screen presence, cutting a niche himself with his Area Code series which profiled different neighborhoods before venturing into hard-hitting special reports on topics including street families, accessibility for PWDs and the tribulations of Kenya's elderly.
At the heart of his meteoric rise is a genuine love and passion for journalism that shines through TV screens. While some of the biggest media talents may have found themselves in the sector by chance, Otieno belongs to a different category.
From his days at Kisumu Boys High School where he wrote countless articles from Form 1 before becoming Deputy Chair of the Press Club, to Moi University where he was Editor-in-Chief of the Press Club, Otieno seems to have always been a man on a mission to succeed in the field of his dreams – and that is nothing if not admirable.
Celebrating the apparent culmination of his dreams, he wrote: "I wish my grandmother lived to see this day! But I'll honour her the only way I can, by sharing her name with you all. Agnetah Ateto Obora!
"She sacrificed a lot for me and didn't live to see the fruits of her labour. Honoured to be this year's #AJEA2021 Journalist of the Year!"
Otieno took every opportunity available to him to get his foot in the door, including becoming an intern at Royal Media Services (RMS) owned Citizen TV in 2013 where he was an Assistant Studio Producer.
He was involved in set design, camera operation and sound mixing for the morning show then known as The Power Breakfast Show and lunch-time news bulletin Citizen Live at 1.
Currently, Otieno also co-hosts and produce a podcast called "The 2030 Podcast" that conducts weekly discussions intended to inspire positive action among Kenyan youth aged between 20 to 30 years.
The AJEAs weren't the first accolades received by Otieno in recent months.
In 2020, he was one of 12 journalists from around the world shortlisted for the prestigious Thomson Foundation Award, with his work further recognised by the UK Foreign Press Association.
He was shortlisted for his story revealing how Covid-19 restrictions had affected street families in Nairobi.
Otieno's focus on human-interest stories, particularly on minority groups, has been a constant feature throughout his career, and proves that journalism remains a force for public good.