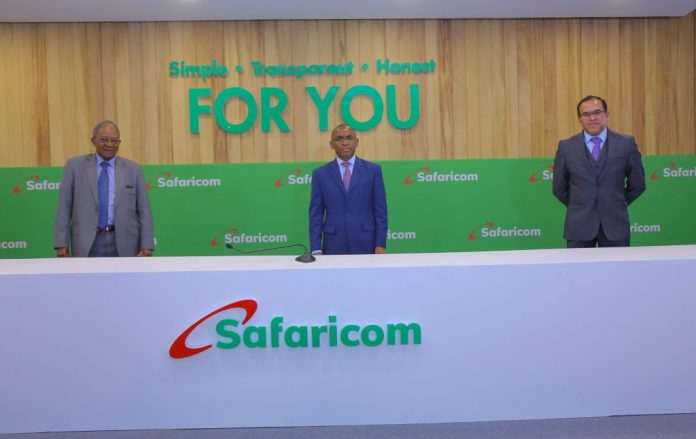 Safaricom is East Africa's most profitable firm, and it therefore comes as no surprise that senior employees at the NSE-listed telco are some of the region's highest-paid executives. Both the C-Suite executives running the company's day-to-day operations and board level non-executive directors enjoy various hefty perks.
Michael Joseph joined Safaricom in 2000 as CEO and steered the company's growth into a market-leading telco and global mobile money pioneer. He currently chairs the Safaricom Board of Directors. For the year ended March 2021, Joseph was compensated to the tune of Ksh133.8 million as revealed in the annual report.
The figure includes a Ksh127.5 million bonus Joseph earned in the review period as well as Ksh6.3 million worth of fees he received in his capacity as chairman and non-executive director.
The additional Ksh127.5 million bonus was classified as executive compensation, although Safaricom failed to state whether it was deferred compensation for his nine-month stint as CEO as Safaricom CEO following the déath of former CEO Bob Collymore due to Cancèr in July 2019.
The chairman of Safaricom's board earns Ksh5.7 million per annum and a sitting allowance of Sh85,000 per meeting. Other non-executive directors receive fees of Ksh2.2 million per annum and a sitting allowance of Ksh60,000 per meeting. A person chairing a board committee is paid Sh74,150 per meeting.
Notably, non-executive directors are compensated in fees "but are not entitled to any pension, bonus or long-term incentives such as performance share plans." Aside from Joseph, the 13-man board includes CEO Peter Ndegwa, CFO Dilip Pal, Company Secretary Kathryn Maundu and non-executive directors including former ICT PS Bitange Ndemo.
For the year ended March, Safaricom's first Kenyan CEO Peter Ndegwa was paid a Ksh90 million bonus. His appointment as CEO took effect on April 1, 2020.
Safaricom, however, does not disclose details of its executive contracts.
"The executive director's (the CEO) remuneration is as per the negotiated employment contract and is employed on a fixed-term basis. Besides the basic salary, the executive director is entitled to an annual performance-based bonus and Vodafone Plc shares, residential accommodation, utility bills payment, children's school fees and club membership," the firm noted.
Chief Finance Officer Dilip Pal earned a Ksh20 million bonus for the year ended March 2021.
His predecessor Sateesh Kamath received a bonus of Ksh5.6 million. Kamath left Safaricom in mid-2020 after being promoted to Vodafone Business CFO.