Kenyans are still celebrating Angella Okutoyi's achievements at this year's Australian Open. The youngster made history, becoming the first Kenyan woman to win a match at a junior Grand Slam tennis tournament. It was the first time in 16 years that a Kenyan has played at the Australian Open Juniors, and the second time a Kenyan girl has played a junior grand slam tournament.
She achieved this in her debut in a junior Grand Slam event. Okutoyi won two close three-set matches, defeating Italian qualifier Federica Urgesi in the first round and Zara Larke from Australia in the second before losing in the 3rd round to Serbia's Lola Radivojevic .
Yet we cannot highlight Okutoyi's stellar performance and achievements in the tennis court without mentioning one man: Allan Atola. Allan is the central figure who sacrificed his all – including his tennis career, to focus on not only Angella but also her twin sister, Rosy Asumwa. He has mentored them well and knows their inspiring story.
The Okutoyi twins were born in 2004 and sadly lost their mother due to complications. They were later taken to an orphanage in Limuru where they lived for a while before being moved to Loreto Convent Estate in Nairobi where they stayed with their grandmother and uncle Allan Atola who was then still a student.
See >> How Angella Okutoyi Did It At The Australian Open
"At Birth we had to choose between the mother and the twins. It was a tough decision for my family. While in Limuru my mother and I used to visit them every weekend and the orphanage took good care of them until we were informed of a white couple who wanted to adopt them. That's when we decided to take them with us to Nairobi because we couldn't bare losing them," sighed Allan.
Allan says it wasn't easy managing the family. "We lacked money to buy food and at times we survived on water. At that time my other sister was down with cancer. Cancer treatment was so expensive and it drained us. I was still in school and I couldn't help much. Unfortunately, my sister died. Losing two sisters in such a short time was so tragic." Remembered Allan.
Allan was a sports person himself. He started as a footballer before shifting to tennis while in high school.  Having acquired the skills required to play tennis, he started training his nieces.
"I started training Angela and Rosy when they were 4 years. I could go to school and in the evening have training sessions with them. They started playing Tennis before joining school and at that time they could go for competitions as Sunday school kids. When I finished form four I decided not to continue with my studies but to focus on making my nieces' better tennis players."
The twin court rulers have never looked back since their uncle introduced tennis to them. Amidst all the challenges they have been glued to the sport often idolizing American tennis Serena Williams and Venus Williams who have rocked the courts over the years .Their main target was to achieve their dream of playing professional – which is happening.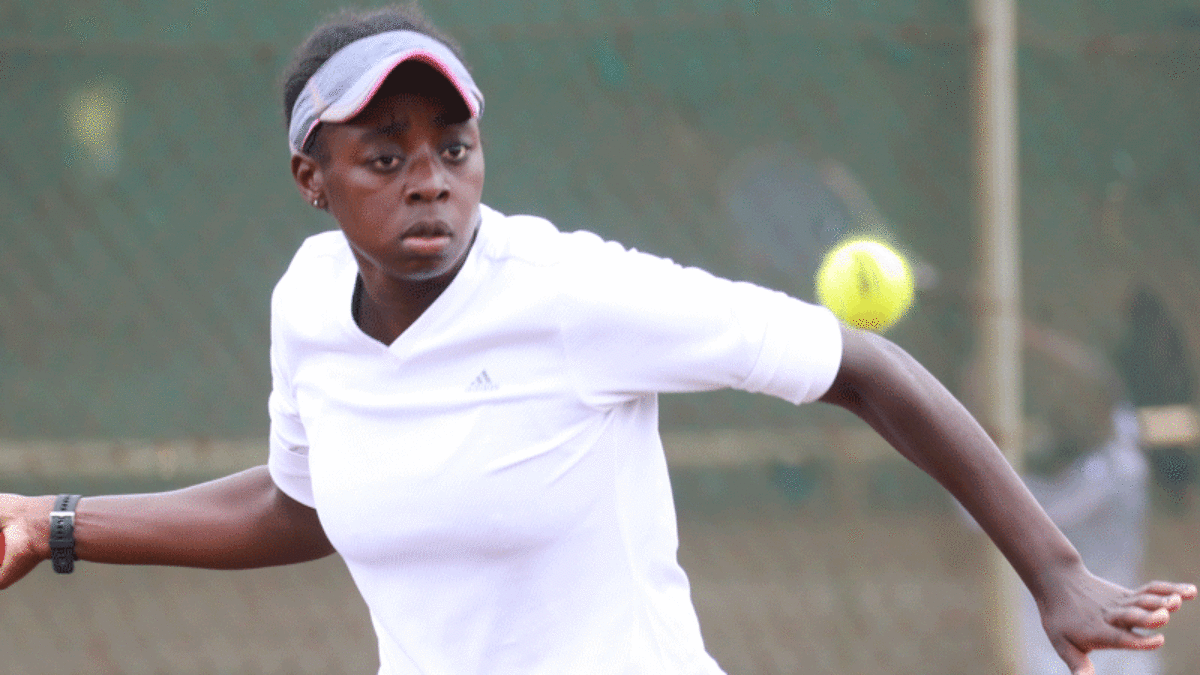 "When I started training them I wrote down a goal in bold; I will make them top tennis players in Kenya, Africa and the world. But I can tell you for sure it hasn't been easy. I can't count the number of times I knocked on doors looking for sponsors in vain. We couldn't even afford the playing tools. A single tennis racket costs Ksh20,000," says Allan.
He adds: "The only thing I could afford is go to Gikomba and buy clothes that almost looked like tennis kits as well as old rackets. We used that for the longest time until in 2018 when a company by the name Top Spin from Mombasa donated four rackets. They weren't the required professional rackets but that has been the best help we have ever got," explained Allan.
Angie, as she is fondly known, has made grate moves compared to her sister. She has spent most of her time at the East Africa Tennis Centre – a private facility where she has been training most of the time.
Read >> Rallying Superstar Gets Kenyans Excited
Through the help of her uncle she managed to join the International Tennis Federation (ITF) which saw her move to Morocco at the ITF center. Apart from the recent achievement at the Australian Open, Angela has risen to become a star at a young age, conquering both Kenya and Africa in ITF tournaments.
In 2018, she became the youngest player to win the Kenya Open then aged 14 after upsetting experienced three-time former champion Shufaa Changawa. Angela is currently ranked Position 53 Worldwide in the ITF Junior Rankings.
The twins have on several occasions shared the court either as teammates in the doubles or as rivals in the singles. Angela who turned 18 years on 29th January is a two time African champion. Allan says Angela's success is due to her determination, hard work and the resilient spirit in her .
"She works so hard and doesn't give up no matter what. She is so humbling and listens carefully."
On her historical achievement at the Australian Open, Allan says, "I told her participating in that event was everything. At that time I didn't know it will be this huge. I am yet to find a word to explain how I am feeling about this but I am so proud and blessed to be part of this history making story and Angela's success."
Coach Allan is hopeful that they will get financial aid as they look forward to a brighter future.
"I pray that sponsors will come along as we eye to participate in the French Open come May and June," Allan says. "We have senior events to rock but we need finances. Even at that Angie's win has come with a lot of goodwill with almost 15 colleges in the US promising to offer scholarships."
>> Village Girl Achieves Football Glory At Just 20 Years
>> Isaac Juma: The Making of a Super Football Fan