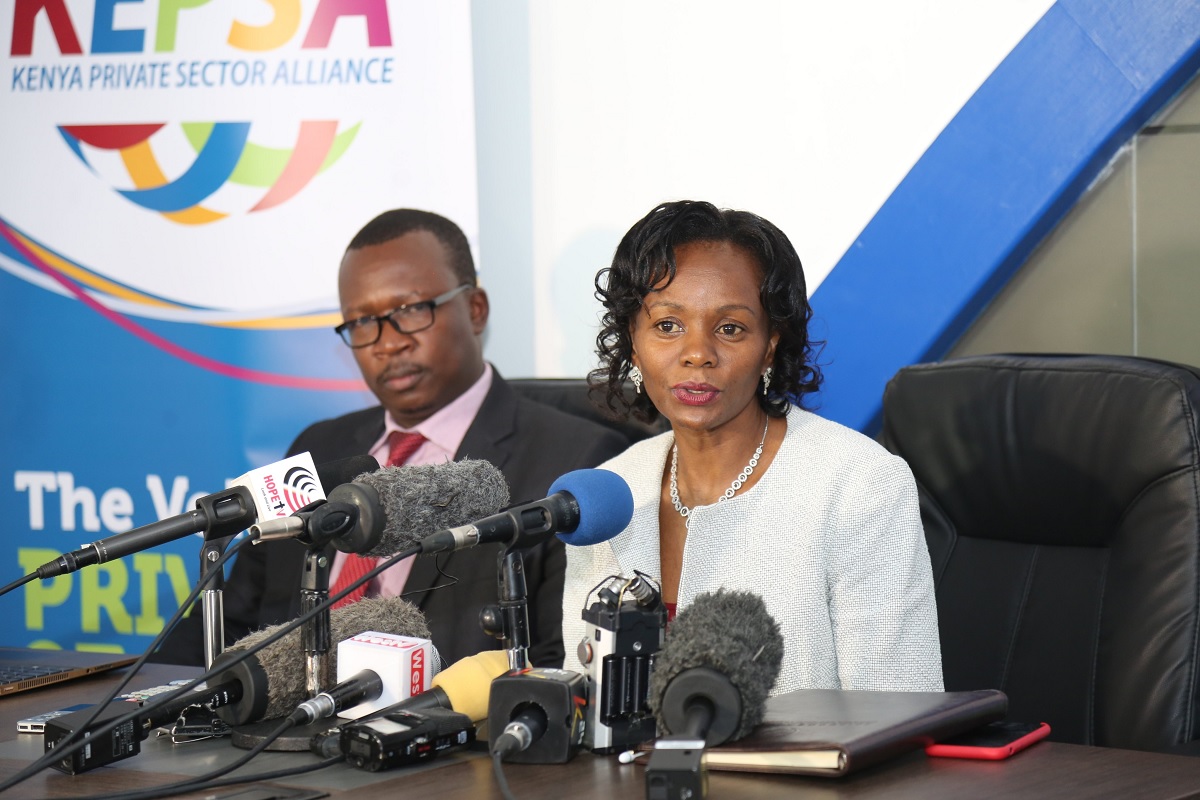 The Kenya Private Sector Alliance (KEPSA) wants the government to build on economic stimulus measures unveiled last week by replicating what major economies like the US & Canada are doing to protect their businesses and citizens from the shocks caused by the spread of the COVID-19 Virus.
On Monday, Kenya reported an additional 8 cases pushing the total number of cases in the country to 50 with the Ministry of Health projecting that the number will hit 10,000 by the end of April, statistics which are now informing the private sector to brace itself for the worst-case scenario.
Wednesday last week, the United States Senate approved a USD2 Trillion (Ksh208.9 trillion) economic stimulus w*r chest to cushion its businesses and citizens, a move that could guarantee USD1200 (Ksh125,388) to all Americans earning up to USD75,000 (Ksh 7.8 million) and USD500 (52,245) per child for a period of four months.
On top of that small businesses will also access USD377 billion in federally guaranteed loans while distressed companies would be eligible to borrow from a Ksh500 billion kitty.
KEPSA though cognisant of the country's economic situation (Ksh6.3 trillion debt) wants the government to roll out similar measures within its capabilities to stop the country's economy from sliding into red territory.
KEPSA is engaging the government on further economic stimulus measures to ensure minimal job losses, cushion Small and Medium Enterprises (SMEs) and to produce the needed health essentials, and financial packages to mitigate the threat COVID-19 poses to food production.
Last week, the government adopted many of the KEPSA proposed interventions including the tax stimulus for employees, confirmation of VAT refunds and payment of pending bills and wants the government to now build on those efforts.
"KEPSA will continue to engage the government on measures to cushion businesses including the informal sector, SMEs and big organizations this week. Several private sector members are also undertaking different initiatives to tackle unemployment risks," the lobby group said in a statement on Monday.
Some of the initiatives include flower farms giving flowers to maintain farm jobs, EPZs to produce for the local market and offload to mitumba (secondhand clothes) sellers.
The Action Plan also outlines measures to support new manufacturing businesses to fill emerging gaps in global supply chains; encourage domestic production of essential items that were previously imported, and accelerate the adoption of innovative business models and technologies required during the c****s.
Portal
Kepsa has also launched 24-hour call centre and a COVID-19 information portal for businesses to get responses on business and health matters for workers, strengthen supply chains, business initiatives, and economic mitigation.
"The call centre and the COVID-19 information portal are open for all the businesses including Small and medium-sized enterprises (SMEs) and will ensure business continuity," KEPSA CEO Carole Karuga said.
The portal will enable the sharing of information, essential medical supplies and ensure continuity of supplies for local businesses. Businesses can contact the call centre for any business inquiry.
Attempts will be made to answer all the business questions and provide guidance to relevant materials and contacts.
Health
The lobby has also drafted a plan that ensures that local businesses are manufacturing as many health essentials needed to contain the spread of Coronavirus.
Some of these include masks, sanitizers, disinfectants, and medical products among others. In addition, members have formed initiatives to get ventilators to complement government efforts.
Businesses are also driving public awareness hygiene campaigns and producing and delivering sanitizers and water to the public.
Food
KEPSA has come up with a food delivery framework that will see the private sector come together with other partners to roll out the program.
In the face of this unprecedented c****s, several KEPSA members have launched initiatives to feed their employees, while other members are rolling out innovative feeding programs.