He will drive past the junction his minding doubting. But he will drive on past boda boda men or pedestrians without even bothering to wave. With technology, he whips out his mart phone and dial into Google maps and directions. Unknown road, Google replies but Mr Man drives on and takes another left turn trusting his instinct.
Half an hour later he calls the person he's going to see and learns to his sorrow that he has been driving in the opposite direction for a 7km. He turns, and unsure whether to be mad at himself just smiles sheepishly. That means an extra 14km of his journey.
That scene is a subject of many jokes about men unwilling to stop – whether walking, cycling or driving – and ask for directions. Well, this is no mean joke, according to insurance firm Sheila's Wheels.
According to a 2010 research by the company, the average male motorist in Britain travels some 444 extra kilometres (276 miles) per year simply because he refuses to ask for directions. This amounts to Ksh6,000 for an average consumption car of 1litre for 10km. In the UK the figure is even more scuttling at £2,000 or $3,100) (Ksh310,000) worth of wasted fuel over the stubborn man's character.
See Also >> 11 Fuel Saving Tips Every Driver Should Know
In the UK, 25% of all men would rather wander aimlessly for up to a half hour before stopping to ask for directions, and one in 10 simply refuse to ask altogether. The same could be said of Kenyan men, or even worse.
In June this year a Nairobi resident came up with an idea to charging people for showing them directions within the city centre. The man was spotted advertising his services for only Ksh10.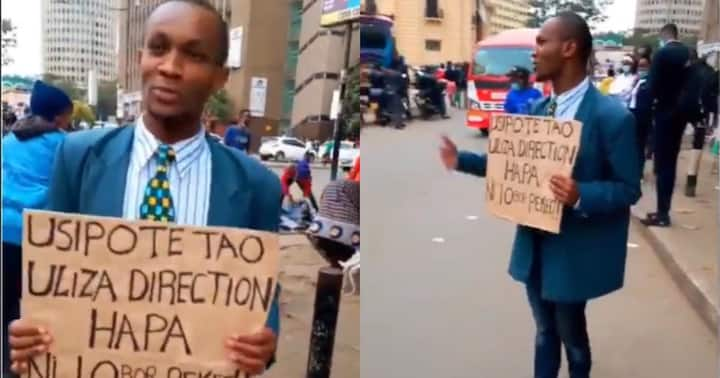 On the flip side, three quarters of women polled have no problem asking for help, according to the poll. And here's comes an interesting figure: 41% of men admitted to telling their passengers that they knew where they were going… even though they didn't.
Though the study took place in the UK, we'd bet that it could be worse in Kenya. After all, a much stranger-phobia country waste more time and fuel pretending to know where we're going.
>> The Day President Uhuru Was Forced To Take a Bath In a Bucket
>> Fuliza Opens a Pandora's Box For Safaricom