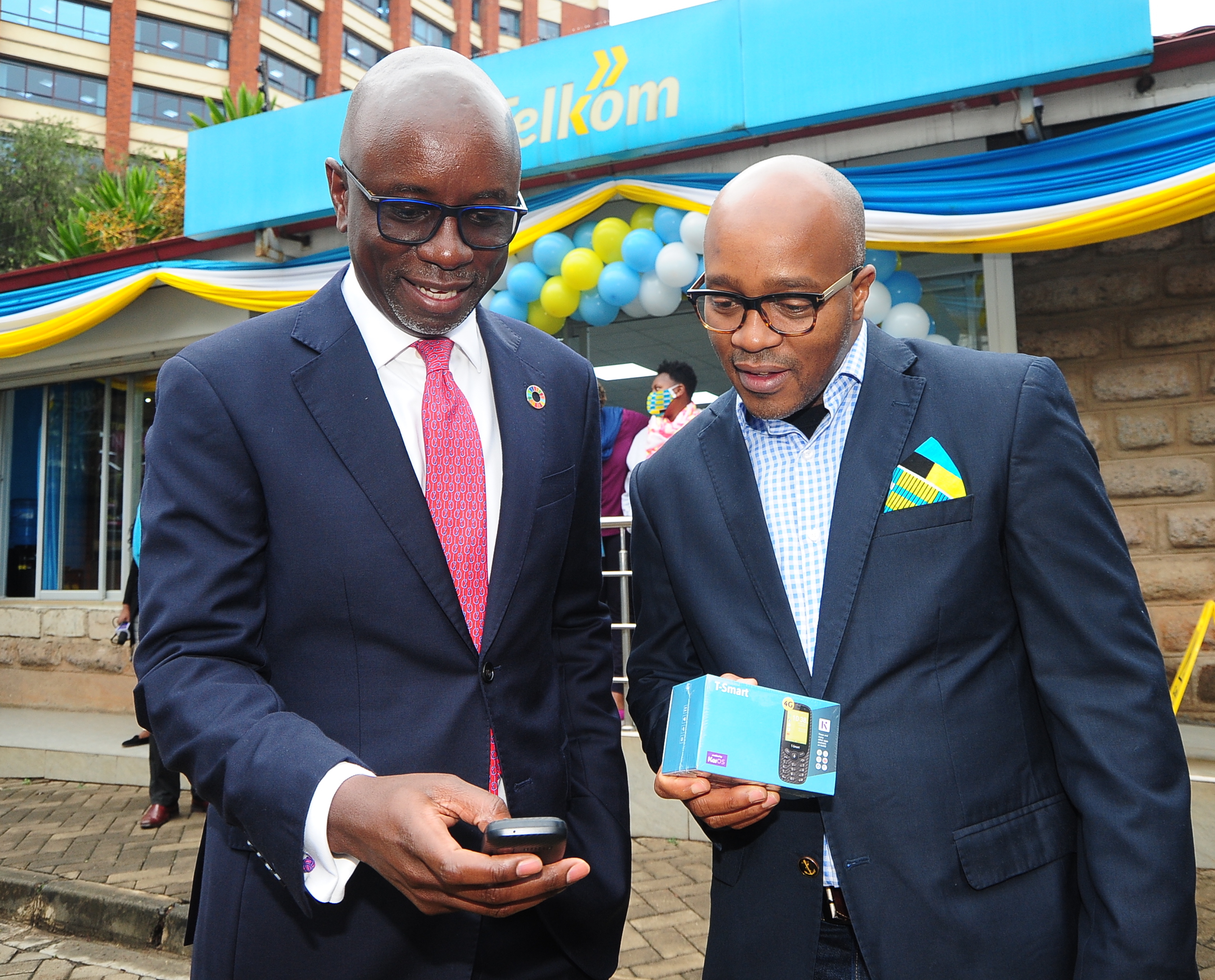 Telkom on Tuesday launched the Kaduda 4G Phone Series, the latest instalment in the Kaduda series that premiered successfully with Kaduda 1, the Kaduda Selfie and the Kaduda Smart. The Kaduda series are smart feature phones retailing at affordable prices which enable more customers to access the Internet.    

The first of three devices is the T-Smart, retailing at Ksh3,100. It runs on KaiOS Technology that supports smart-phone applications like Facebook, WhatsApp and YouTube.
The T-Smart will help address the growing demand for competitively-priced Internet-enabled devices.
A rise in demand for more smart devices has been occasioned by the accelerated digital transformation that is being witnessed across the globe, and which has made more people and businesses increasingly adopt the use of automated and digitized platforms.
This digital transformation is particularly important within the telecommunications sector, creating an increased demand for broadband, connectivity, and digital platforms, by individual consumers, corporates, and the public sector.  

In a statement, Telkom's Managing Director for Consumer Steve Okeyo said the Kaduda Series will allow the telco's customers to have the features they need in affordable smartphones.
Telkom subscribers who purchase the T-Smart will receive a free daily introductory bundle of 100 MB of data to browse the Internet.
They will also receive another free 100 MB of Data to access WhatsApp as well as another free 100 MB of Data to access Facebook.  They will also receive 100 minutes to call within the Telkom network. The bundle will be renewed daily for a whole month. 
First-time subscribers to Telkom who purchase the T-Smart, and top-up their line with Ksh50 or more, will receive free 50 MB of Data to browse, another free 50 MB of Data to access WhatsApp as well as free 50 minutes of call within the Telkom network, daily, for the first 30 days.
This offer will be replicated in the second month should the first-time subscriber maintain a top-up of Ksh 100. The same free offer will also be extended to the subscriber's third month on the network if they top-up another Ksh 100 or more. 

"Entry-level smart-feature devices constitute about 40% of phones sold in Kenya, affirming their acceptance and popularity; due to longer-lasting batteries and the ability to pick signal faster in areas that are underserved with regard to connectivity," added Mr. Okeyo. 

According to the Global Mobile Economy 2019 report, mobile Internet users in Africa in 2018 stood at 239 million, a penetration rate of 23%.
These numbers are projected to rise to 483 million, translating to a 39% penetration rate by 2025. Overall, unique mobile subscribers on the continent are projected to rise from 456 million (in 2018) to 625 million; about half of the continent's population, by 2025.

Last month, Telkom unveiled its new strategic focus areas as the company seeks to grow its market share and topple market leaders Safaricom and Airtel.

Telkom also restructured its business to reflect this new strategic direction, enabling it to sharpen its efficiencies, with respect to service provision and overall customer experience.
This business restructuring will also enable Telkom to partner more strategically with like-minded entities, for example, in the telecommunications, technology, and financial services sectors, with the end game being to become the technology partner of choice to its consumers, private and public sector clients.