Tala, the digital finance app provider, has announced a $110 million (Ksh11 billion) series D funding to accelerate financial inclusion around the world.
The new round of investment will support the launch of new products in the Tala loans ecosystem that promotes financial health and creates value for its customer base.
Ivan Mbowa, Tala General Manager (East Africa), said the new round will enable Tala to reach more customers in Kenya and globally with services that put them in control of their financial lives.
"Kenya was our first home, and today it remains our largest office and customer base," said Mbowa. "We will use this funding to deepen our connection with customers by introducing new tools to help them reach their full potential."
Three billion adults around the world do not have access to basic financial services, including the ability to borrow, save, or grow their money.
Tala is seeking to build a "financial system that works for everyone, beginning with the world's most accessible consumer credit product."
Tala loans launched in Kenya in 2014 and became the first in the world to offer unsecured loans via smartphone, instantly underwriting customers and disbursing credit entirely through an Android app. The company celebrated its five-year anniversary this year.
Tala loans growth has been fueled by a deep commitment to its customers, whose loyalty has helped make it the largest non-bank lender in Kenya and the top digital lending app across all its markets.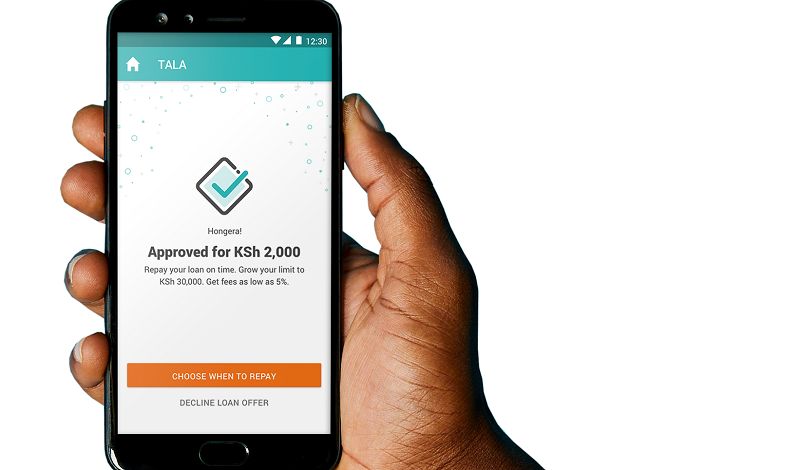 In the near term, Tala will leverage its proprietary technologies and customer trust to deliver additional products that accelerate financial health and consumer protection for the underserved. Already, in addition to credit, customers can take advantage of free financial education and community building services, both online and offline. Tala is also piloting a new micro-insurance benefit in Kenya.
The new round was led by RPS Ventures with participation from GGV Capital and previous investors including IVP, Revolution Growth, Lowercase Capital, Data Collective VC, ThomVest Ventures and PayPal Ventures. Kabir Misra, Founding General Partner at RPS Ventures, has joined Tala's board of directors.
Tala has raised an additional $100 million (Ksh10 billion) in debt financing over the past year, including $50 million (Ksh5 billion) led by Colchis Capital specifically for Tala's Kenya portfolio. Tala has more than 500 employees around the world, with its largest office in Nairobi, Kenya.