Veteran Swahili news anchor Swaleh Mdoe has authored a book aimed at giving practical lessons to upcoming newscasters on what it takes to succeed on the big screen.
The book, TV News Anchoring: A practical guide to professional news casting, dishes out witty bits of advice and elaborates on the practical qualities a TV reporter or news anchor must possess, according to fellow journalist Ian Omondi, who says he was inspired by Mdoe to abandon his initial interest in IT and music for the fourth estate.
"He gives out the kind of practical advice that an aspiring journalist cannot get from any journalism school; only from someone who has been on the field numerous times," says Omondi in an article published on Citizen Digital.
This is the veteran journalist's first English book having previously authored at least five other books, all in Swahili.
"Presenting news is not public speaking. It's conventional. Read the news as if you are talking to a friend. You should connect with your audience. Treat the viewers at home as your friends because they invite you in their homes to watch you read news every day," writes Mdoe in the book.
"Don't scare your viewers. Why would you start a story with, "This story is very sad and bizarre"? We don't want to know about the labour pains, we just want to see the baby."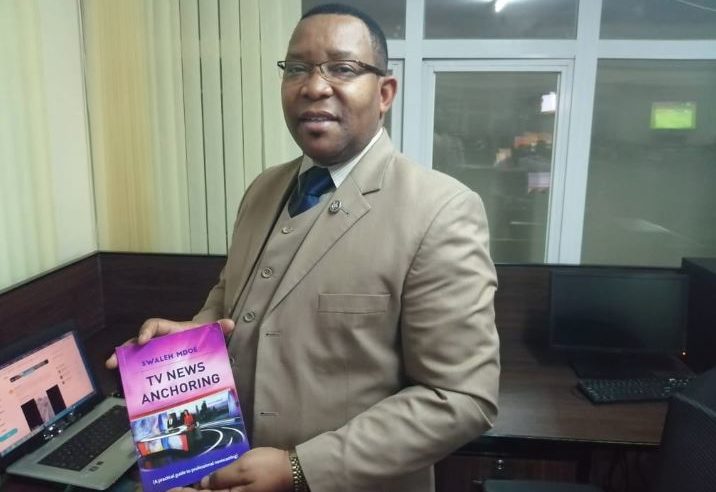 "'TV News Anchoring' is a book written in the simplest possible format and an easy-to-read style. It gives step by step guidelines on the role of every single person in a functioning newsroom; from the reporters to the Editors, all the way up the chain to the Managing Editors and Editorial Directors. It illustrates, in a witty manner, the Do's and Don't's of modern day journalism; with a clear distinction across the various platforms namely print, broadcast and digital," Omondi says of the 89-paged book.
Mdoe, who started off his journalism career as a columnist in the now defunct Kenya Times in 1991 before joining The Standard as a correspondent the same year, has had a chequered journey in the media during which he has worked for various outlets both in Kenya and elsewhere.
Swaleh Mdoe's major break
His major break came in February 1995 when he was hired as a Swahili Service Reporter by the BBC. In December 1999, he joined the Nation Media Group as a Swahili news presenter for NTV and Nation FM.
Between July 2001 and January 2007, he was the Lead News Anchor- KTN Leo- Swahili Bulletin. He later joined Royal Media Services where he was appointed the Managing Editor- Kiswahili/ News Anchor, Citizen TV Swahili bulletin, Nipashe. He is famous for his "Tafakari ya Babu" anecdotes during bulletins.
Mdoe was demoted early this year after refusing to pull down an appeal he had made seeking a buyer of his kidney at Ksh 2.5 million, saying he was in a financial crisis which even the banks could not help.