In his State of the Nation address on April 4, President Uhuru Kenyatta termed the country's standing as "strong."
"We remain a country striving and ambitious, taking on our pressing challenges and not avoiding them."
Here are some highlights from the address.
Corruption
"The magnitude of the war against corruption we are fighting today is unprecedented, taking place within our core institutions of Parliament, the Executive, Judiciary, County Governments and also in our religious institutions, private sector and professional bodies."

Read: Uhuru spares CSs implicated in corruption scandals

"We need to ensure that Corruption cases are heard and determined on a priority basis. Kenyans are waiting to see more convictions and far less cynical exploitation of court processes to protect the guilty."

There will be no turning back in the War against Corruption and Impunity. There will be no sacred cows, no compromise. The fight against corruption is a fight for the soul of our nation."
No turning back
In his intro, President Kenyatta emphasised a no turning back theme on corruption, creating national cohesion, the Big Four agenda and government reforms.
"No turning back on the war against corruption as it is a just war, a war to prevent misuse of public resources for selfish interests by those we have entrusted to manage them," he said.
Economy
Average of 5.6% economic growth over the past five years
Estimate of 6.1% economic growth in 2018
Economic growth largely driven by the wholesale and retail trade, real estate, information and communication and tourism.
Inflation rate averaged at 4.6%
Kenya Shilling currency rate (averaging Ksh101 to the dollar)
'World Bank Ease-of-Doing-Business Index : position 61 in the world
"In 2019, we expect an even stronger growth of 6.3 percent, reflecting continued improvement in the business environment, momentum associated with execution of the Big Four Agenda, and sustained macroeconomic stability."
The Handshake
"In all our cultures a handshake is an expression of goodwill, friendship, trust and reconciliation. It is synonymous with peace."

"Our handshake has been followed by millions of handshakes across the length and breadth of the Republic."

"Leaders across the country and at every level of Government have opted for renewed politics of unity."
National Security
"Our response to external and transnational security threats has been: determined reforms to our immigration system's integrity, and the strengthening of border security and management."

Our border points are better managed, and the establishment and continued expansion of the Border Police Unit is deterring, detecting and disrupting threats to our security."

We have effectively adopted a 'follow-the-money' approach to investigations and prosecutions that will continue to be strengthened and applied across the range of serious crimes, including economic ones."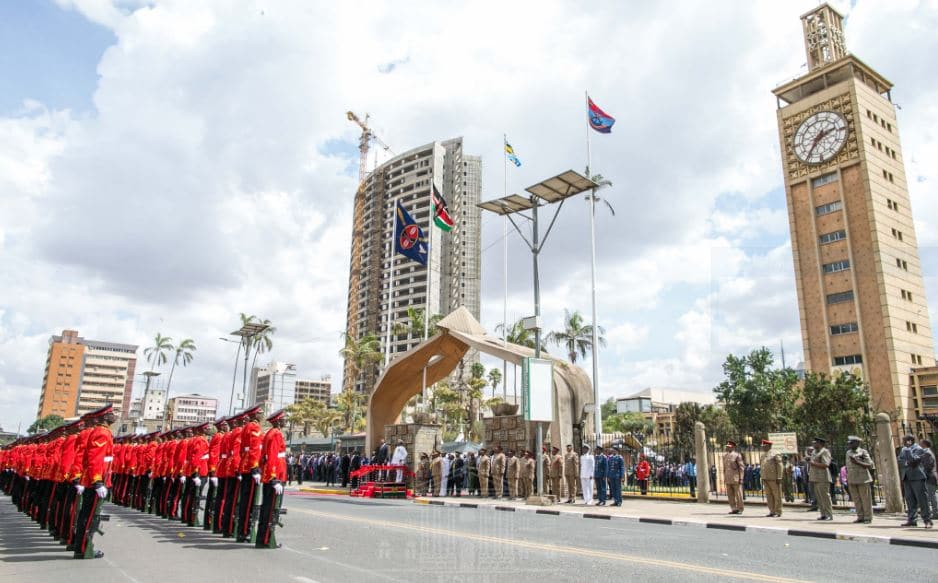 Natural Resources
With resources being at a premium, Presidnt Kenyatta said his government would during this session of Parliament propose a Sovereign Wealth Fund Bill which will seek to provide legal framework to guide the investment of revenues from Oil, Gas, Mineral and other Natural Resources.
SGR
Phase 2A of the Standard Gauge Railway is at 90%, the president said.
"I look forward to journeying with Members from both Houses in the inaugural SGR trip from Nairobi to Naivasha."
SMEs
In the State of the Nation address, President Kenyatta said that the micro, small and medium size entreprises  sector employs approximately 14.9 million Kenyans and contributes an estimated 28 % of Kenya's GDP.
"We will be launching an "SME Credit Guarantee Scheme" in a few weeks, aimed at deepening their access to credit without being subjected to complex application procedures and collateral requirements."
Education
President Kenyatta said that education reforms in 2018 were geared at aligning the education system with the country's national values.
"The reforms are expected to mold a people who embody innovation and excellence. The result will be a globally competitive human capital base, having the tools for success in a fast-paced and dynamic world. "
Big Four Agenda
Manufacturing
– Setting up of Peugeot and Volkswagen assembly plants in Kenya. Expected 1,500 vehicles assembled in the country by year's end.
Universal Health Care
– Successful roll out of pilot phase in Isiolo, Machakos, Nyeri and Kisumu counties.
-Total roll out in all 47 counties by 2020
Food Security
-Construction of 4,400 water pans under the Household Irrigation Water Project. These pans store 6 million cubic meters of water, with the aim of placing an additional 6,000 acres under irrigation."
On Coffee – "Mr. Speaker, with a view to comprehensively resolve the problem of undue delays in the payment cycle, we have set up a Ksh.3billion Cherry Advance Revolving Fund to be operational from July 1, 2019."
Affordable Housing
-Over 175,000 Kenyans registered under the voluntary scheme known as "Boma Yangu" to be in line for allocation of houses.
-Supply of certain components, such as doors and windows, to be done exclusively by local Micro, Small and Medium size enterprises.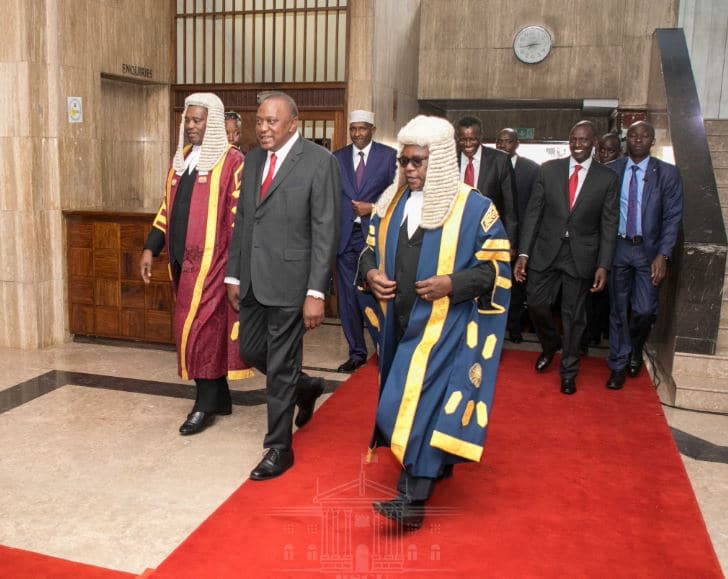 Uhuru Legacy
A throw back to the Head of State's first term in office, President Kenyatta said the stage was set for Kenya's prosperity.
"My first term laid the foundation for a better Kenya by building on the promise and aspirations of the new Constitution and therefore, set the stage to propel our country to greater security, health, unity, prosperity, equity and justice."
National heroes
Recognised as Kenyans doing extraordinary things which have placed the country on the world map were,
Eliud Kipchoge, Marathon world record holder.
Athletes and sportsmen, "who have continued to make our national anthem, echo around capitals of the World."
Peter Tabichi, Best Teacher in the World
Roy Allela, inventor of smart gloves that convert sign language movement into audio speech.
"These Kenyans remind us, what we could achieve, if we remained true to our national values."
Devolution
The president called devolution a sound system that has proven its value and contribution to national development.
Parliament
"I also wish to acclaim Parliament for its continued diligence. In the period under review, 22 Bills have been enacted into Acts of Parliament, with 2 currently awaiting Presidential Assent."
Some of the legislation highlighted were the Kenya Coast Guard Services Act, which established the first Coast Guard Service in Kenya, the Petroleum Act, the Energy Act and the National Youth Service Act.
The president also honoured Parliament for ratifying international treaties such as the African Continental Free Trade Area Agreement, the Tripartite Free Trade Area Agreement and the EAC Protocol on Cooperation in Meteorological Services.
"The consideration and approval by Parliament of various Protocols, Treaties and Sessional Papers continue to enhance Kenya's international standing in the community of nations, creating stability and predictability in our Governance Framework."