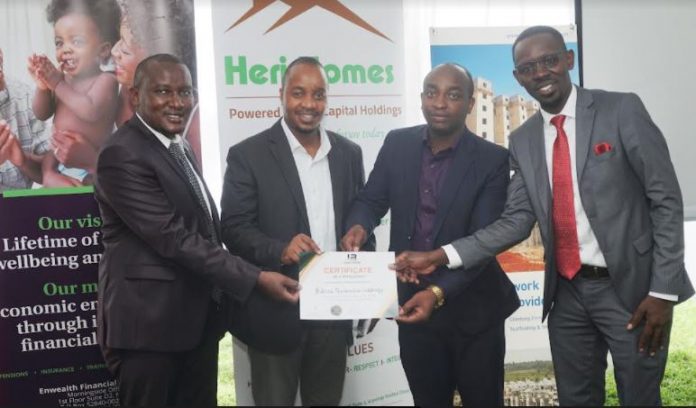 Players in the real estate sector in Kenya cannot meet the growing demand for affordable housing for several reasons, including a lack of cost-effective building methods and outdated technical solutions.
Heri Homes Chief Executive Officer Kimotho Kimani said that adopting updated methods such as aluminium formwork would help players in the construction sector remedy the challenges.
The World Bank estimates that Kenya needs at least 2 million low-income houses annually but only produces less than 50,000 units due to fundamental challenges on both the demand and supply sides.
Kimani said technologies such as aluminium formwork, whose popularity is beginning to pick up in Kenya, has already worked in shortening construction time in local projects.
"Using these kinds of building methods, construction companies can build an eight-storey building in eight months, down from 24 months they would take when using the brick and mortąr method," he said.
"With such a technology, homeowners would get their houses faster than they would have ordinarily," he added.
Kimani who also doubles up as the Chairman of the Legacy Ridges Ruiru project opines that the government has created an enabling environment for affordable housing to be realized by building roads, fast-tracking issuance of title deeds and giving rebates on value-added tax and relief on affordable housing for those developing.
South Korean firm Kumkang Kind introduced the aluminium formwork solution in Kenya and already has several projects in the pipeline in the country and around the continent.
Locally, the Korean company is working with at least nine developers whose projects are spread in Kiambu, Eldoret and Nairobi.
KumKang Kind is currently delivering its solutions to Maisha Housing, Unity Homes, Ovid Construction and Urban Housing Renewal Development LLP.
Outside the Kenyan borders, KumKang Kind is working with developers in Ethiopia, Ghana and Algeria.
Sam Muihia, the Business Development Director of Kumkang Kind East Africa urged players in the construction sector to be open to new ways of building such as aluminium formwork.
According to Muihia, most countries in the west had adopted the building technology to deliver affordable houses to their citizens.
"We cannot continue to use brick and mortal methods while technologies such as aluminium formwork have been available for more than 40 years," Muihia said.
Costly building methods
Commenting on the same, Bola Properties Managing Director Malei Nthiwa called for the upscaling of green solutions in Kenya to lessen the burden of millions of Kenyans seeking affordable houses.
Quoting a finding conducted by Bola Properties, Nthiwa said that nine out of ten Kenyans lack a place they can call their homes, despite affordable housing being an ongoing agenda of President Uhuru Kenyatta's second and final term as head of state.
The finding listed the lack of end to end technical solutions and lack of cost-effective building as the most significant challenges.
To mitigate these challenges, Nthiwa called for upscaling of green solutions in Kenya to lessen the burden of millions of Kenyans seeking affordable houses
Market aggregation
At the same time, Nthiwa urged sector stakeholders to adopt market aggregation to spur the growth of affordable housing in Kenya.
He said availing affordable houses would require having all stakeholders under one roof.
"In any project, you need financiers, you need technical experts, and you need legal help and suppliers. Unless the whole ecosystem of people in the construction sector come together and deliberate on how to move this sector forward, affordable housing will be but a dream," Nthiwa said.
Bola Properties promotes affordable housing solutions, including aluminium formwork, pre-stressed concrete, precast concrete technologies, and water and solar power solutions.
The experts spoke at an event that brought together stakeholders in the construction ecosystem to deliberate on delivering affordable housing in Kenya.
The plan is among President Uhuru Kenyatta's Big 4 Development Agenda announced at the commencement of his second and final term at the presidency.
Under the plan, the government is expected to construct 500,000 low-cost units by the end of 2022.
They were speaking during an affordable housing solution forum that brought together stakeholders in the housing sector at the Safari Park Hotel. They also discussed mortgage markets and the role played by National Construction Authority, cooperatives, Sacco's and financial institutions in housing financing.
Affordable housing is part of the Big four pillars under the Jubilee administration aimed at giving Kenyans an opportunity to own houses and homes and addressing the housing challenge and living standards among the Kenyans.
Covid-19 had also presented its own challenge economically with most Kenyans unable to continue investing in the housing plan. Since President Uhuru Kenyatta vacated countrywide dusk to dawn curfews, the majority are looking forward to the economy bouncing back, and initiatives like the mortgage markets and affordable housing stakeholders engagement is one such good opportunity to fast track the housing agenda.
Read: Fanaka Real Estate Gets "Transparent, Trusted" Top Score Brands Award
>>> Africa's Largest 3D Printed Affordable Housing Project Announced In Kenya