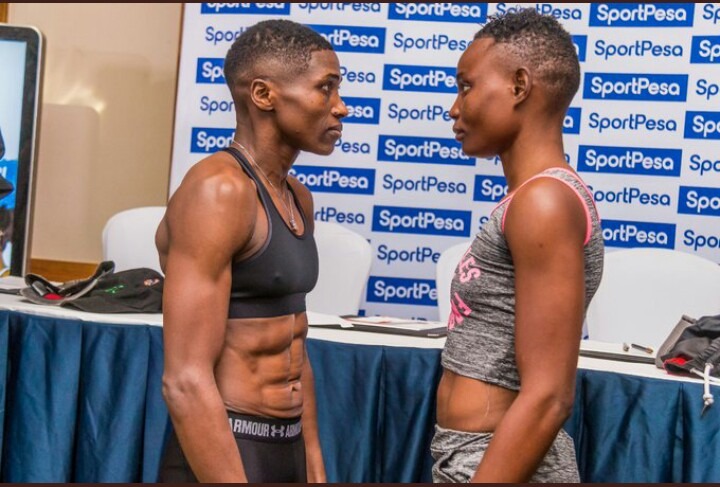 [dropcap]S[/dropcap]portpesa sponsored Nairobi Fight Night returns again this Saturday as Kenyan pride Fatuma 'Iron Fist' Zarika is expected to face off with Zambian Catherine Phiri for the World Boxing Council (WBC) Bantamweight Championship title. Both fighters have passed the weight test, which required them not to exceed 55.38kg with a uniform weight of 55kg.
The match is heavily anticipated as it pits two fighters who have all come from humble backgrounds and have fought hard to get their boxing careers where they are today. The match is also a rematch of the December 2017 clash between the two women that saw Zarika win narrowly.
Speaking at the face off on Friday, Zarika's opponent Phiri promised to fight to the very end. "The last time I was here, I promised that it would be fire for fire but this time I promise it will be nuclear for nuclear," the 32-year-old warned.
But on her part, Zarika said she will do her talking in the ring. "Training imekuwa poa kule UK na naezasema niko ready for the fight. Hakuna haja ya kupiga mdomo hapa, tukutane kesho kwa ring ndio tujue nani mnoma (The training has been good in the UK and I can say I am ready for the fight. There's no need for too much talk, let's meet tomorrow in the ring to decide who is the better fighter)," she said.
The Kenyan phenomenon started her boxing career around the same time as Conjestina 'Hand of Stone' Achieng but the later faced health challenges hence dropping out of the game early. Zarika was also poised to retire last year but she decided to add two more years to her boxing career.
Zarika, a mother of two, started life in the slums of Nairobi, where she was raised by a single mother who struggled to put food on the table, let alone pay school fees. The boxer was forced to drop out of school at the age of 16.
The ' Iron Fist' hails from a modest family and grew in the Mathare slums in Nairobi as she dreamed of a professional boxing career. She watched Mohamed Ali's daughter, Laila Ali, in the ring and was inspired to take up boxing at a tender age. She joined the Mathare 4A gym under coach Edwin Oksimba just after dropping out of school. She grew slowly under the coach and the rest, as they say, is history.
She had her first match at the age of 18 which she won eliminating her opponent, Rukken Koronso of South Africa, after four rounds of fighting. It was onwards and upwards for the 'Iron Fist' as she went ahead to win matches back to back, losing her first against the undefeated Conjestina.
Zarika now trains in Liverpool, UK under the watchful eye of dedicated trainers and former WBC Cruiserweight champion, Tony Bellew. Zarika might have begun her journey in a gym in Mathare but now trains with one of the best trainers in the UK. Prior to this match, The Iron Fist has undergone an intensive training session in Europe and only arrived in Kenya on Monday.
Zarika comes from a sporting family. She is sister to former Harambee Stars player and Gor Mahia captain Musa Mohammed. There was a point when the two of them carried Kenyan Pride on their shoulder. Having grown up in the slums of Mathare neither of them could have ever imagined that they will be Kenya's top sports personalities.
Her opponent is also not to be undermined as she has achieved a lot in her boxing career. The 32-year-old has her name in the history books as she was the first African Woman to win a prestigious World Boxing Council Gold title in 2016.
However, just like Zarika, her battles haven't just been in the ring. Zambia isn't a country that instantly springs to mind when you think of boxing. Phiri was inspired by a former Welterweight champion Esther Phiri, who has also inspired a lot of Zambian girls to venture into boxing. Prior to the fight, Phiri said how Esther has motivated her in her career.
"Esther Phiri is an icon in Zambia and a lot of girls look up to her, myself included. She has been a great inspiration to me, I drive my motivation from her story as I also work to inspire other girls in Zambia," Zarika's challenger commented.
Both Zarika and Phiri have thrown punches to patriarchy Zarika having divorced her husband after finding marriage life to be difficult. Phiri has never been married as she vowed to focus on her boxing career.
Just last year, Fatuma successfully defended her title against Mexican Yamileth Mercado on home turf. She is hopeful that fighting at home will inspire her to another victory as she continues making Kenyans proud. Just like her predecessor Conjestina 'Hand of Stone' Achieng, Zarika is turning to a household name because of what she has achieved in the past and what she is to win in the near future.
Read: Mixed reactions to Business Today story on churches richlist
Kenyans are expected to turn up in large numbers in support of The Iron Fist as she seeks yet another home victory. Apart from the WBC bantamweight fight, there will be four other fights in the Nairobi Fight.
NAIROBI FIGHT NIGHT MATCHES
Super Lightweight Men: Nicholas Mwangi (Kenya) vs Iddi Mkwera (Tanzania)
Super Lightweight Women: Sarah Achieng (Nairobi, Kenya) vs Joice Awino (Mombasa, Kenya)
Middleweight Men: Rayron Okwiri (Kenya) vs Pascal Bruno (Kenya)
Super Welterweight Men: Hassan Mwakinyo (Tanzania) vs Sergio 'El Tigre' Gonzalez (Argentina)
Super Welterweight Women: Fatuma 'Iron Fist' Zarika (Kenya) vs Catherine Phiri (Zambia)