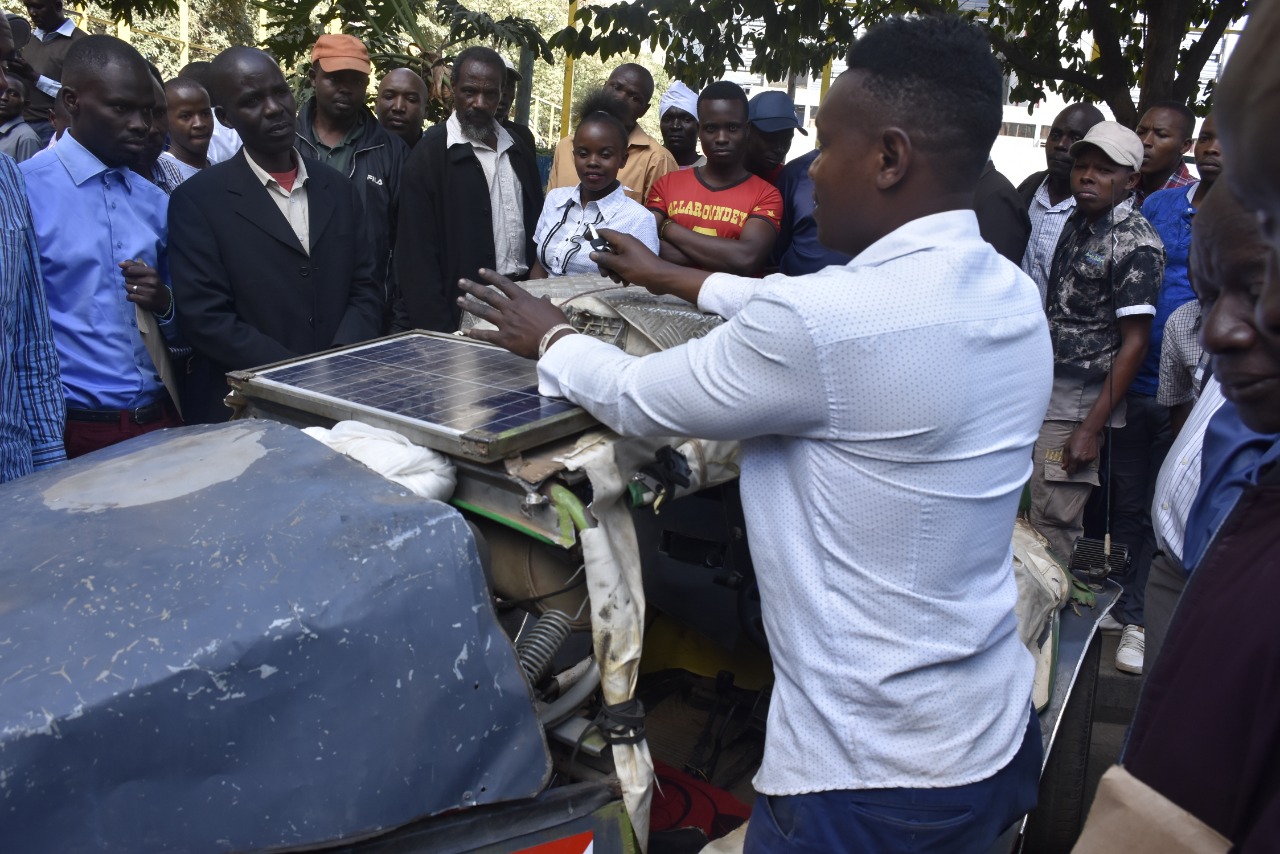 For the better part of this week, Musa Shikuku Maganga has been driving around the streets of Nairobi in his own hand-built car.
The two-seater car has amazed Nairobians judging by the crowds that gather around him at every stop he makes in the city. With two car tyres at the front and a motorcycle tyre at the back, the car has an inbuilt entertainment system that comprises a digital TV at the rooftop and a woofer at the rear.
Mr. Maganga, who hails from Mombasa County, hopes his car can help achieve national unity in the country. In fact, he has taken the initiative to drive around all the 47 counties in Kenya and spread his message of peace.
"I started this peace campaign after the 2007 post-election v******e but I wasn't as successful as I wanted to because of financial setbacks," Mr. Maganga recalls.
"At the time I was using a motorcycle to tour the country but the motorbike was not attracting people. I decided to build this car because it will then attract the masses and give me the opportunity to talk to them and spread my message of peace," he added.
It took Mr. Maganga a year to finish the two-seater vehicle. He began building it in 2016 and was done on June 2017. He began his tour around the country on July 2017. The vehicle cost him over Ksh240,000.
The Mombasa youth is only studied mechanics for a year. His expertise in mechanics is God-given as he did not acquire most of his skills from school. Mr. Maganga says he took a mechanics course but was not able to finish because of lack of school fees. He only attended classes for a year.
According to him, he has not achieved a fraction of what he strives in life. Mr. Maganga has other projects which he promises will amaze Kenyans. He is planning to make another car, a modern one, which he says will be unique from the cars we know.
"It will be a unique modern vehicle in which I will install systems that are non-existent in other vehicles and will also have an automatic gear system." the Mombasa youth talks of his new car project. The car will be ready in one year's time.
Apart from his new car project, Mr. Maganga said that he is planning to build a helicopter and a robot. He is already working on his helicopter and has built a skeleton structure of what would later become an airplane. He targets to have it fly 5,000 metres above sea level.
The self-taught mechanic is also planning to build a computer-controlled robot. This will be the first from a Kenyan and probably an African.