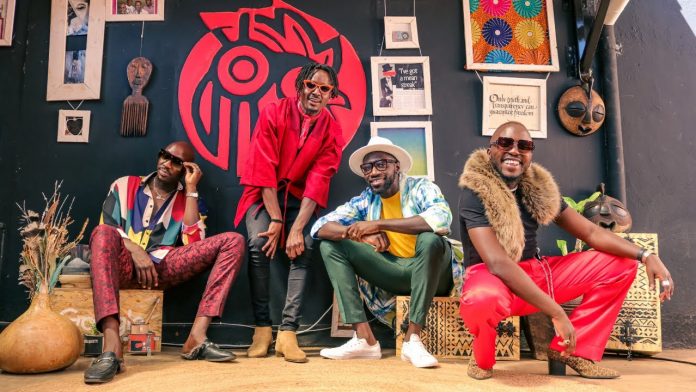 The Sol Generation family's hit docu-series Sol Family has been renewed for a second season and returns to our screens on March 15.
The first season that aired during the peak of the pandemic, August 2020, was gleefully received by the Sol fanbase, evident from the social media buzz in the form of memes and clips that circulated the internet.
The hit show that features award-winning band Sauti sol highlights the lives of Bien, Savara, Polycarp and Chimano alongside their proteges Nvirii the storyteller and Pedi singer, Bensol.
The show essentially unveils the behind the scenes magic of the artistes' music production process and a glimpse of their family life and romantic relationships. The show's in-depth and intimate production won the hearts of many Kenyans, earning a spot on Showmax's list of most-watched shows on the platform for weeks.
Sharing his excitement about the upcoming new season, producer Eugene Mbugua popular for the production of Our Perfect Wedding Kenya and Concert Nyumbani, called season one a "resounding success", especially among the many Sol Generation fans who felt that they got to know and relate with their stars better.
"We have an exciting season lined up which we have been filming since July of last year. We'll give the audience a more in-depth look into the couples on the show. We'll also get to take you behind the scenes of what happens when Sauti Sol, Nviiri and Bensoul hit the stage," Mbugua disclosed when asked what the fans should expect to see from the coming season.
Mbugua revealed that things have been much easier shooting the second season after the ministry lifted some covid restrictions. As such, the audience will also follow Sauti Sol and Sol Generation for an out-of-town experience as the show travels to Meru, Diani and even Lamu.
Sauti Sol recently launched their brand of Pacesol earphones following their partnership with audio company Pace Africa.
SEE ALSO>>>>>Radio: How Comedians, Influencers Kicked Journalists Off the Airwaves