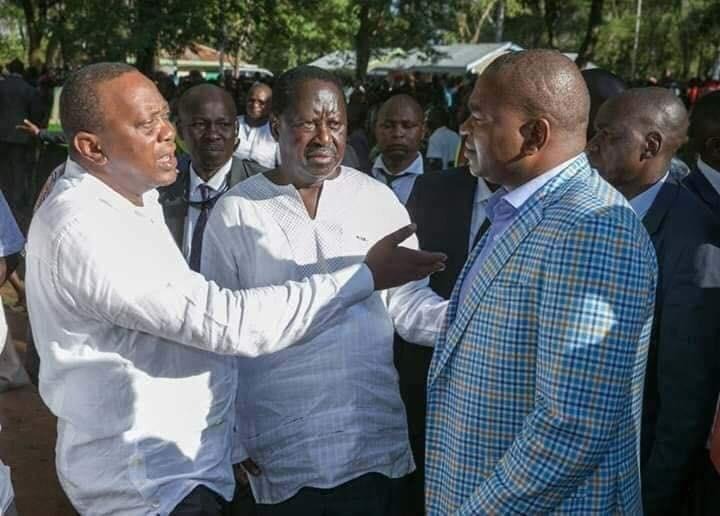 [dropcap]R[/dropcap]ashid Mohammed Echesa, who was on Friday fired as Sports and Culture Cabinet Secretary by President Uhuru Kenyatta in a mini-reshuffle, was a surprise pick when the Head of State named his Cabinet nominees after securing a second term in office.
Though a staunch ally of Deputy President William Ruto who played a significant role in Jubilee campaigns in Western Kenya, the former ODM youth leader's academic credentials were put into question.
In his CV, which he submitted to the National Assembly Committee on Appointments, the sacked CS did not reveal the schools he attended.
Speaker Justin Muturi, who chairs the committee, is said to have had reservations but went on to approve his nomination. Echesa would later claim his detractors were out to tarnish his name.
Though President Uhuru Kenyatta said the changes are targeted at 'enhancing efficiency, transparency and accountability at all levels of government through a governance structure and leadership that ensures rapid delivery of public services to Kenyans', pundits are likely to read more in his decision to sack Echesa.
The former CS continued to dabble in politics even after his appointment to Cabinet despite numerous warnings from the President to his ministers. He used various forums to hit out at former Prime Minister Raila Odinga and even at one time claimed the Opposition chief, who had mended fences with Uhuru through the famous handshake, was plotting his sacking.
"Raila Odinga stop mentioning my name. I am not your equal. The president was not stupid to appoint me in the Cabinet. He would have picked a professor but he settled on me, the son of a poor man. But now Raila Odinga is going round holding meetings with Western leaders, telling them that President Kenyatta wants Rashid Echesa out of Cabinet because he supports Ruto. Please Raila give me a break. I am not your equal," Echesa in one of his many gaffles.
"We have one government led by the president and the deputy president and those are the only people I will pledge loyalty to. But not to you Raila Odinga. I will never call you Baba. My father d**d a poor man I even struggled to bury him," he added.
It seems Raila, through Uhuru, has called his bluff.
The number of times Echesa attended to ministry matters pales against the number of occasions he appeared at public rallies in Western Kenya issuing on salvo after another.
At one time, the Kenya Amputee Team had to spend the night in his Kencom House office seeking funds to represent Kenya at the World Cup.
Nairobi Governor Mike Sonko came to their rescue and they donned Sonko branded T-shirts at the fames much to the government's embarrassment. Echesa later took on Sonko telling him to stop interfering with his docket.
He held that the ministry did not have funds to finance sports federations. Due to his poor record, the government plotted to transfer the Sports Fund to the National Treasury.
In December last year, a photo of an angry Uhuru giving the former CS a dressing down at the Kisumu International Airport as Raila watched went viral.
The President was castigating the CS for neglecting the Jaramogi Oginga Odinga mausoleum in Bondo, which falls under his docket. Raila had complained to the President.
Politics aside, Echesa has been the subject of negative publicity ever since he took office.  Just this week, the former CS was linked to Joseph Waswa, the man who impersonated the President and conned businessman Naushad Merali Ksh 10 million.
A house in Ruiru where police discovered fake gold and Ksh 32 billion was also associated to him. The fake gold and money was also linked to Waswa and his six accomplices.
A while back, the former CS was in the spotlight when the government deported eight Pakistani dancers who were supposed to perform at Balle Balle Club in Parklands, Nairobi.
It later emerged in court that it is the CS who wrote to the Immigration Department asking it to issue them with special passes. He defended himself, saying he wrote the letter to promote cultural exchanges between the two countries.
On another occasion, Kakamega Senator Cleophas Malala accused Echesa of being behind the posting of photo shopped n**e photos showing him in bed with a woman.
Read: Allure of C-Section: Urban women shy away from normal birth
Malala claimed that Echesa had sent the photos to some journalists instructing them to crop in Malala's face. According to Malala, Echesa sent the photos directly to his personal cell.
The journalists later appeared in court.