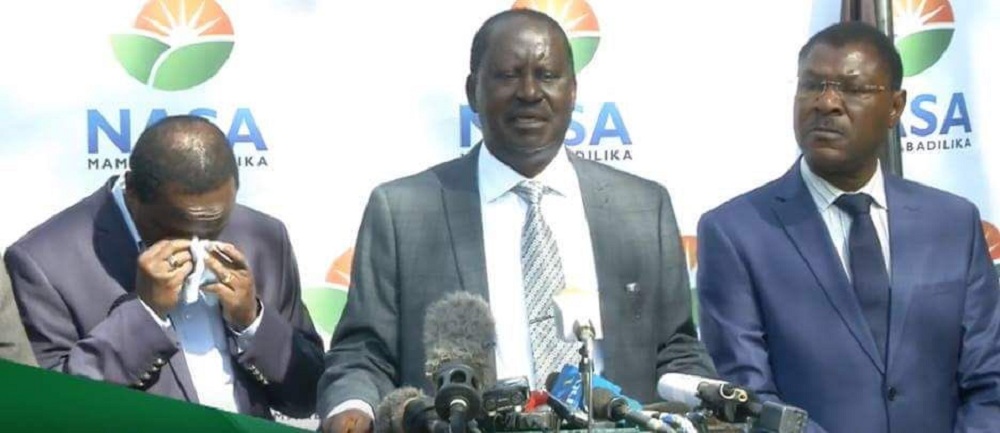 The NASA Summit Thursday declared it has not disintegrated as it was perceived by many after three of its members failed to turn up at Uhuru Park where its leader Raila Odinga took an "oath" as the People's President.
Raila, accompanied by co-principals Kalonzo Musyoka, Musalia Mudavadi and Moses Wetang'ula, addressed a press conference in Nairobi where they called their troops to order, saying they were united as the journey to Canaan has just begun.
They castigated the Jubilee administration for harassing Ruaraka MP TJ Kajwang, who was arrested on Wednesday and arraigned in a Ngong court on Thursday charged with being present and consenting to administer an oath to allow Raila to commit treason, and others, saying it had panicked. He was released on bond after spending the night in police cells.
According to Kalonzo, Raila was not sworn in by anyone but himself.
"They should leave TJ Kajwang alone. If you look at it properly, Raila was not sworn in by anyone, he swore himself in," said Kalonzo, who at one time wiped his eyes as the NASA leader condemned the grenade attack at his Karen home.
Raila had wondered how those behind the dawn attack think his sick wife felt when the stun grenade was thrown into the compound followed gun shots.
He demanded that all stones must be turned to get the real culprits, saying detectives have already said they have a suspect.
NASA leaders also condemned the clampdown on the media that saw four TV stations shut down.
On the NASA unity, all the four principals reiterated their commitment to the NASA agenda with Raila saying they will issue the way forward on Friday.
Raila and Kalonzo wondered why the Independent Electoral and Boundaries Commission chose to buy space in a newspaper to dismiss the parallel results they released last week indicating he won in the August 8 poll rather than verifying them using their servers.
Raila said he was confident of his win and hence the conviction that led him to swear by the bible.
"We are going to remain together as NASA and the so-called division in NASA in the media is the creation of the media. We are together despite them not being present during the swearing in. We shall remain united," said Mr Odinga.
"We in NASA are united. They have explained to you why they were not there on 'swearing in' day. Kalonzo will be sworn in another day," he added.
 Mudavadi and Kalonzo insisted on working together as a team, allaying fears that there were divisions after they skipped the swearing in of Raila Odinga at Uhuru Park.
"NASA is a legally constituted coalition and there is no time that the Summit has met to say they are scuttling the coalition. There people using their resources to spread these untrue claims that there is a possibility of dissolving NASA but were  are one," said Mudavadi.
Kalonzo said it was not possible for all of them to be at the swearing in event given the security implications. He added they had been virtually under house arrest after their security details were withdrawn and were handling the matter tactfully.
"We are aware of the political risks associated with what we are dealing with including risks on our lives and that of our families but we stand with our brother Raila Odinga. We want to see this matter proceed to a logical ending," said Kalonzo.
He said even if Raila swore himself in as the People's President, he remains a former prime minister who is entitled to various privileges including security.
Kalonzo, who has been at the centre of focus as he was also supposed to take an "oath", dismissed those within NASA who are critical of their absence, saying the enemy was not within but without.
He also dismissed calls to retire honoroubly after what many saw as a blow to his career, saying the journey has just begun.
Wetang'ula said the NASA Summit speaks for itself and does not have a spokesman.