More than 70,000 KCSE candidates across the country are expected to select their preferred courses for Universities and Colleges before the 31st of March, 2021.
The Kenya Universities and Colleges Central Placement Services (KUCCPS) applications will be closed at midnight on March 31st, 2021.
The candidates have been given the chance to select degree, diploma, and certificate courses at the secondary school level before sitting KCSE examinations. The applications are done in the secondary schools that the students have registered.
KUCCPS Chief Executive Officer Agnes Wahome said that this was the first opportunity given to the candidates to select, list, and submit the courses they wish to pursue a degree, diploma, craft, and artisan level.
The students are given 18 choices, that are open to them when applying at the school level. 6 of them are degree courses, 4 are diploma programs, and a similar number for craft and artisan certificate options.
READ>>>>>TSC Advertises 1,000 Vacancies for Teachers
Education Cabinet Secretary George Magoha and KUCCPS revealed fears that many students may miss out on their dream courses, which are key to their career choices if they failed to act immediately.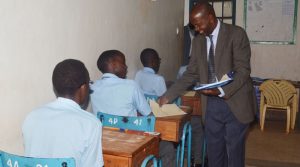 KUCCPS strongly advises parents and teachers to ensure candidates select courses before they leave school as it impacts the children's lives.
"These students run back home after KCSE examinations without selecting any courses and this limits their choices when the portal opens for a first and second revision," said Wahome.
Speaking to a local media, Wahome noted that in the past some candidates who performed very well had failed to apply for placements to university and/or college resulting in them failing to be placed to courses of their choice.
Last year, some 125,448 candidates qualified for placement to degree programs. Of these, 118,794 submitted applications for placement by the close of the first revision of choices. About 82,169 (65.5 percent) were provisionally placed to one of their choices. However, 36,625 applicants did not secure any of their choices.
At the school level, only the principal can submit the school applications and not individual students. This is after allegations of some teachers collecting money and failing to submit the course choices.
According to KUCCPS the cost of application at the school level is Ksh500 while submitting the choices during the revision stage costs Ksh1500.
The national examinations are scheduled to start on March 26 as the application window draws to a close.
READ>>>>>KNEC Advertises 280,000 Vacancies for Teachers Ahead of KCSE, KCPE