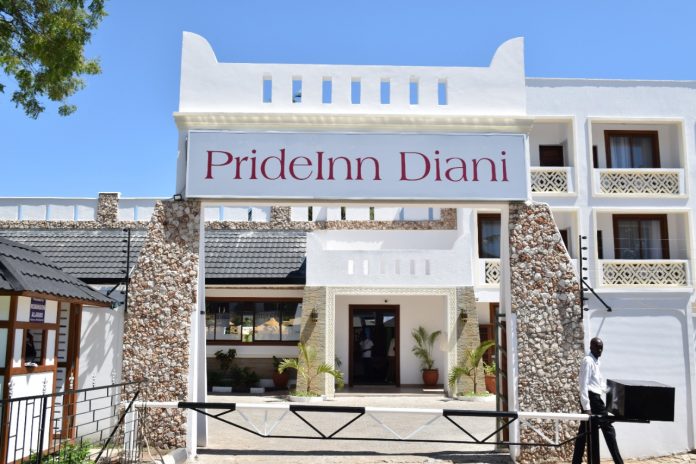 PrideInn has relaunched its Diani Hotel in Kwale county after completing a months-long upgrade to include new amenities and a modern new look and feel. The hotel first opened its doors in 2014.
In 2022 alone, the hospitality group has launched two new hotels in Maasai Mara, Narok county and Athi River, Machakos county as part of its aggressive expansion, in addition to the newly relaunched Diani hotel.
The upgrade of the luxury hotel located in one of the world's top beach tourism destinations is intended to appeal to domestic and international travellers looking for fulfilling experiences.  PrideInn is also eyeing a piece of the meetings, events and conferences market with the upgraded facility hosting the 500-person capacity Diani Convention Center with four conference facilities.
The upgraded hotel can accomodate up to 80 guests per night.
The hotel also includes a new aqua park, targeting families and young leisure seekers. The entire hotel features Swahili-inspired finishings and an airy, spacious feel.
Managing Director  Hasnaan Noorani invited travellers to enjoy all Diani offers; from white sandy beaches to culture, the nearby Shimba Hills National Reserve and UNESCO World Heritage site Fort Jesus.
READ>>Top Citizen TV Presenters On Ruto's Most Wanted List
He further noted that the group would continue its expansion as it aims to be in 'every major county in Kenya' by 2030.
"Following the upgrade, PrideInn Diani now has an Aqua park that will appeal to our young leisure guests. We have also upgraded our accommodation and conferencing facilities to bring them up to date. Apart from upgrading, we have also increased the number of rooms at the facility," he highlighted.
Noorani further advocated for open sky policies to boost Kenya's international connectivity and increase the number of tourist arrivals. He also called for greater investment in tourism marketing and awareness.
The MD also welcomed infrastructure development by the government in the Coastal area such as the Dongo Kundu bypass, stating that access and investment would unlock greater tourism revenue and jobs.
Officials of the Kwale county government lauded the investment as they commited to continued partnership with other tourism sector stakeholders.
READ NEXT>>Standard, KTN Journalists Go 2 Months Without Pay as Giant Limps