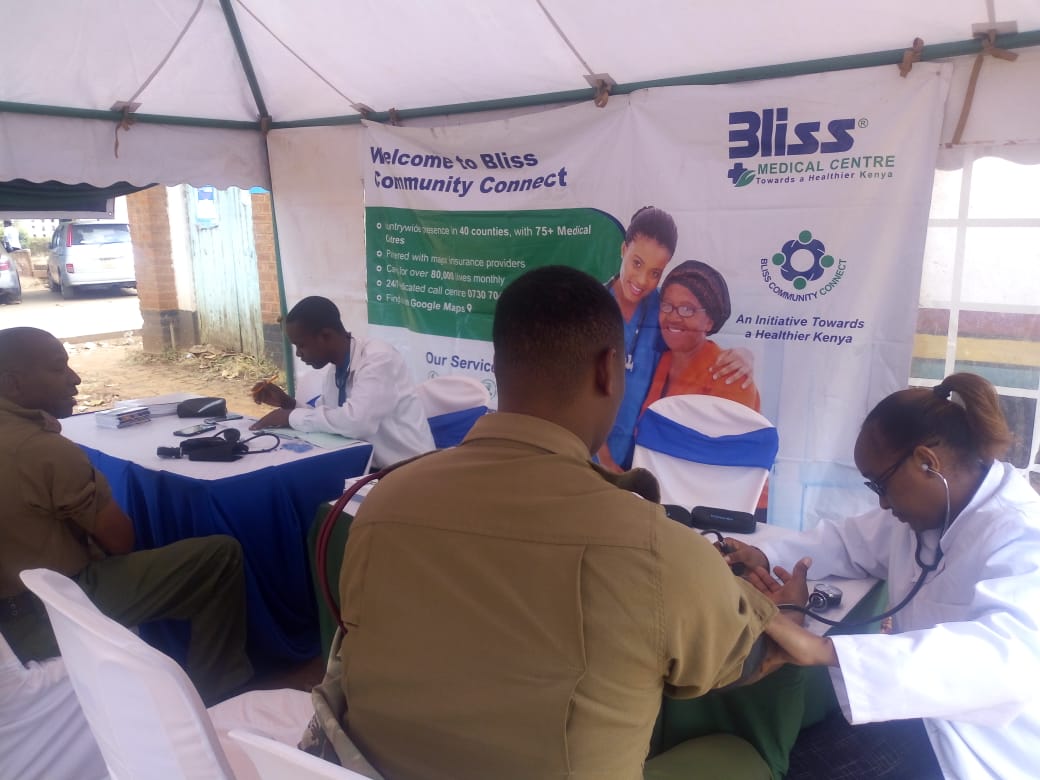 Police officers rarely go for medical check-ups and yet they perform one of the most stressful jobs. They only get checked once in a while when hospitals set up camps in police stations.
For the better part of the month of August, police officers from various counties have benefited from free medical camps courtesy of Bliss Healthcare. The camps were held in a span of one week at various police stations across the country.
Bliss Healthcare mounted one-day medical camps at several police stations in the country with the uniformed men lining up for health check-ups. The camps were set up in Usenge, Machakos, Kiambaa, Mosoriot, Kakamega, and Nakuru police stations between 14th and 22nd August.
One of the nurses conducting the check-ups said there is a need for the uniformed men and women to be frequently having the check-ups. Diana Mungai, the nurse who attended to officers in one of the camps, said that the Police stand a high chance of getting lifestyle diseases because of their jobs.
"Those lifestyle diseases like hypertension and diabetes," Ms. Mungai noted, "They access fast foods due to work schedule and nature of work which they need a relaxing method afterward. Mostly, they ingest nyama choma and alcohol which is a risk because it's an unhealthy diet."
She added saying that the police can also get these diseases due to stress caused by pressure from work. Their work is considered one of the most stressful and requires one to be in perfect health condition.
During the camps, Doctors and Nurses noted that most of them complain of pain from previous injuries, others have hypertension and a few have diabetes. These are the lifestyle diseases that could greatly affect our police force if they don't get regular medical check-ups.
Some Police officers get injured in work and do not get enough time to recover as they are not given enough time off duty. Officers that happen to fall ill also lament of less time to recover.
"Yes to some extent the interventions in the camp help," Ms. Mungai said when asked if the officers need more medical camps. With a chain of over 80 clinics across the country, it is easier for Bliss to conduct these medical camps in various counties.
"We advise them on diet, exercise among other things and they consider it helpful. Our clinics are covered in most areas so if there are any complicated cases, they get referred to the nearest clinic where it can be managed easily," the nurse concluded.