Daily Nation appears to have taken its readers for a ride after going to town on Tuesday with a sensational splash headline indicating athletics icon Kipchoge Keino is on the run after being indicted by Director of Public Prosecutions Noordin Haji in the Ksh 55 million Rio Olympics s*****l only to reveal in the inside pages that he is in Mexico and ready to face charges.
On media watcher was not amused and wondered whether editors at the twin towers were struggling to get a nice headline at the expense of the truth.
"Page one says he's on the run or were they struggling to get a nice pun. Inside he is in Mexico and ready to face charges. Who is fooling us?" he posed to Business Today.
The page one headline indicates that Keino has until Friday to surrender himself or else a warrant of a****t would be issued.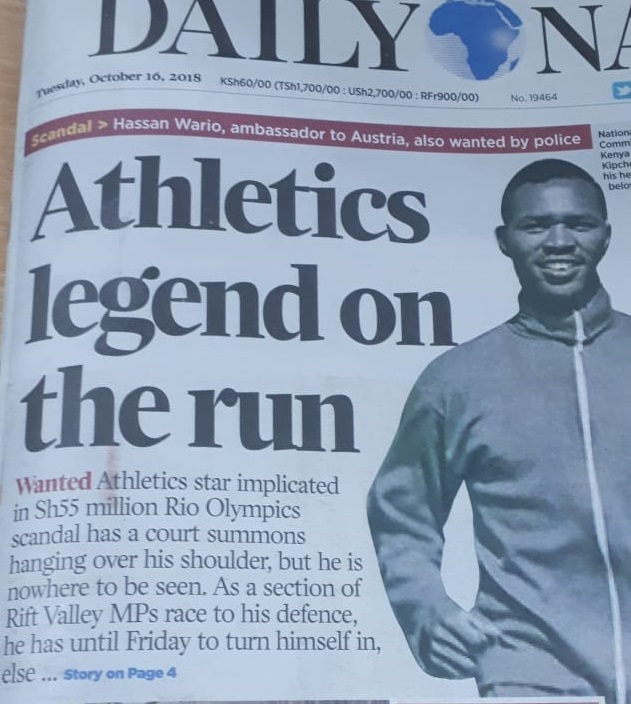 Inside the story quotes his lawyer, Cecil Miller telling Anti-C********n Magistrate Douglas Ogoti that the veteran Olympian had travelled to Mexico to receive an award on behalf of a disabled team from Kenya, which had participated in an international competition.
"Mr Keino will be coming back tomorrow. He has learnt of the charges filed against him by the Directorate of C******l Investigations (DCI). He is willing to plead immediately he arrives. I will surrender him to the DCI," Miller is quoted as telling the court.
Keino is among seven people charged with misappropriating funds mean for the Olympics team in 2016 through e**********t, purchasing of air tickets that were not used, over-payment of allowances and incurring expenditure on unauthorised persons.
Former Sports minister Hassan Wario, who is now Kenya's ambassador to Austria, who is among the seven is also yet to appear in court.
The others, former Sports Permanent Secretary Richard Ekai, who was designated to take up a new job as ambassador to Russia, former director of administration in the ministry Harun Komen, former finance officer Patrick Kimathi Nkubu, former National Olympic Committee of Kenya deputy treasurer Stephen Soi and former Nock secretary general Francis Kanyili Paul appeared in court on Monday and denied the charges.
READ: SAFARICOM LOSING GRIP ON MARKET SHARE
They were released on a cash bail of Ksh 1 million and a personal bond of a similar amount. In the alternative, they were granted a Ksh 2 million bond.
Rift Valley MPs have called for Keino to be spared from being dragged to court citing his legendary status.