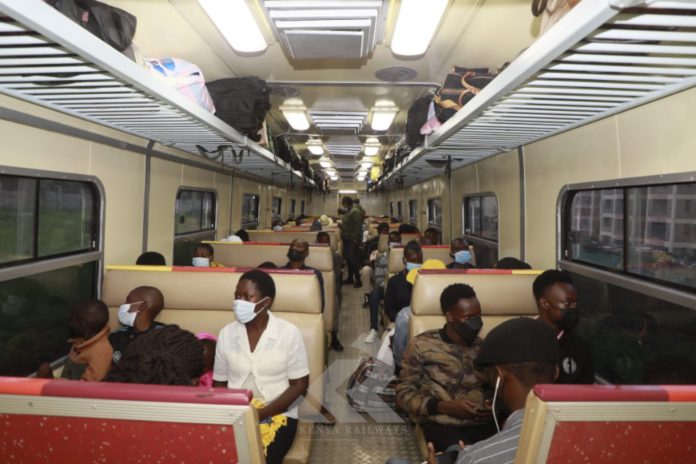 Passenger train services from Nairobi to Kisumu officially resumed on Friday, December 17. Long queues were witnessed at Nairobi Central Station with many families opting for the 12-hour journey, most of them travelling upcountry for the festivities.
The train left Nairobi at 6am, and will have a stopover in Nakuru with the expected arrival time in Kisumu being 5.45pm. Kenya Railways Managing Director Philip J. Mainga oversaw the departure from Nairobi of the first train – dubbed the Kisumu Safari Train.
A restaurant car between the first class coaches and economy coaches serves light and heavy meals as well as drinks. Free wi-fi is also available.
The trip costs Ksh600 for second-class coaches and Ksh2,000 on first class. It costs Ksh30O from Nairobi to Nakuru. The fares are noticeably lower than bus fares – which during the festive season average between Ksh1,200 – Ksh1,800 for a seven-hour journey.
Trips from Nairobi to Kisumu are scheduled for December 17, December 24 and January 1. Travel from Kisumu to Nairobi will begin on Sunday, December 19 with Kenya Railways yet to release further details.
A full schedule for the passenger train is to be released at the start of next year. Aside from families, the train is expected to attract tourists and leisurely travelers willing to spend a few more hours traveling. A section of Kenyans have called for the introduction of night trips on the route.
Cargo services are also to be commissioned.
As part of the upgrade, a new 24.3 kilometre link was constructed between Naivasha Inland Container Depot (NICD) and the existing Longonot railway station. The passenger train from Kisumu on the MGR will terminate at the Naivasha station, where passengers will be transferred to the Standard Gauge Railway (SGR) via the new link.
Passenger train services to Western Kenya haven't been in operation for more than a decade due to the poor state of the old metre-gauge railway (MGR). Refurbishment of the line was recently completed with the Kisumu route considered a key piece of the larger revamped railway network.
Kenya Railways aims to  to provide a seamless connection between the Port of Mombasa and Lake Victoria in Kisumu and also main border point with neighboring Uganda at Malaba.
On the cargo front, it will offer a new option for transportation of goods from the Port of Mombasa to neighbouring countries including Uganda through the Kisumu port. Works to upgrade the Kisumu Port have been completed although it is yet to be officially commissioned for use.