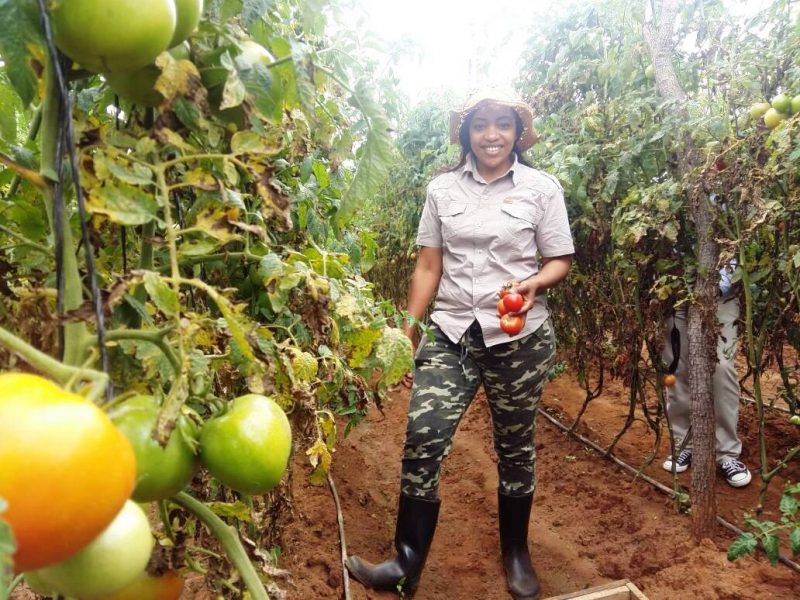 While most young people would consider medicine to be dream career, A Zambian woman quit her profession as a cardiologist and ventured into farming.
Maria Zelina Zaloumis, a 32-year-old trained cardiologist and nurse quit her job in Australia in 2017 to and moved back to Zambia to start her company Tuzini Farms, which specializes in growing tomatoes.
After completing her education in Australia, Maria came back to Africa with one mission, to transform her family's 40 hectare farm that only had half a hectare of tomatoes into a commercially viable enterprise.
The farm was previously being managed by her father who is currently ailing. Since she came back, Ms. Zaloumis has managed to expand her tomatoes production from the former half a hectare to 13 hectares which has brought with it massive returns.
She harvests between 250 and 400 boxes everyday which generates her Ksh121, 625 worth of revenue daily.
In an interview with Voice of Africa, the medical practitioner turned farmer says she does not regret her decision because farming is her passion.
"I wanted a change in career and since farming has always been my passion I came back here and I have settled very well," says Ms. Zaloumis.
SEE: INSPIRING LESSONS FROM TEACHER WHO SELLS FISH
She has a wide range of clients for her product ranging from supermarkets, grocery stores and fresh produce vendors at markets.
"I grow according to my market. I have seen a surge in demand for my tomatoes in the past year and that is largely because I am very mindful of what I sell. I cannot sell tomatoes which are not blood red," said the former cardiologist.
The increased demand for her tomatoes has led to expansion and her farm currently employs over 40 workers.
"I offer a farm literacy program for my workers because not everyone has gone to school. So I am not only reducing their poverty I am also empowering them to go and get jobs later on," added Ms. Zaloumis during the interview.
READ: FOOD MANAGER WHO EATS WITH A BIG SPOON
For all her success in production, Zaloumis admits one thing; she doesn't have any background or specialized training in farming.
She largely depends on the advice of her aide Remy Mayinga, a crop growing expert on what species to grow and how to manage the farm.
"We actually make a good team. I assess the crops and we sit down with Maria and strategize on how to proceed," says Mr. Mayinga.