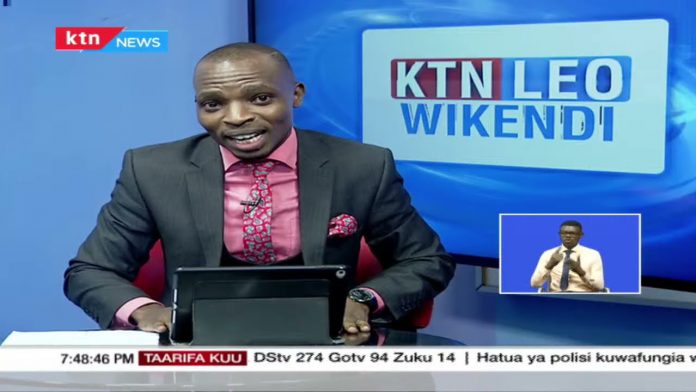 KTN News Swahili anchor Lofty Matambo on Sunday, April 18 announced his exit from the Standard Group-owned station.
Matambo had been at KTN for the past seven and a half years, and hosted the talkshow Kimasomaso in addition to helming prime-time TV news bulletins. He also hosted Shangwe na Matambo, a Sunday morning show on Radio Maisha.
An emotional Matambo announced his resignation at the end of the 7 pm Swahili news broadcast.
Addressing long-time viewers, he looked back on the highlights of his stint at the station and thanked Standard Group for the opportunity. While he did not reveal his next move, Matambo confirmed that he was moving on to other opportunities.
"For seven and a half years you have allowed me into your living rooms without knocking and you welcomed me with a smile. Those in the city watched me and those from the village followed my reports.
"For the zeal to have an upright society, I brought you Kimasomaso to condemn the evil in society and uphold the good. They reached out to me and I answered the call, the call to say goodbye and pursue other things outside the Standard Media Group," he stated.
Sources indicate that Matambo is likely headed to NTV, which is eyeing top talent to boost ratings.
Other KTN anchors said to be in talks with Nation Media Group (NMG) include Ben Kitili and Linda Oguttu.
Finding Matambo's replacement is the new headache for Peter Opondo, the veteran media executive brought in at Standard in February to shake up TV and radio operations to ensure Standard Group brands remained competitive.
Formerly head of TV at Mediamax Networks Ltd, Opondo was appointed to the newly created position of Strategy and Content Editor for Broadcast.
This position put Mr Opondo in charge of editorial content in all the Standard Group's broadcast properties which include general programming TV station KTN Home, 24-hour news channel KTN News, KTN Farmers, Burudani TV as well as its radio stations Radio Maisha, Spice FM and Vybez Radio.
Apart from KTN Home and News, the rest have yet to break even, battling not only for audience but ad-spend as well.
Watch Matambo's farewell message below: