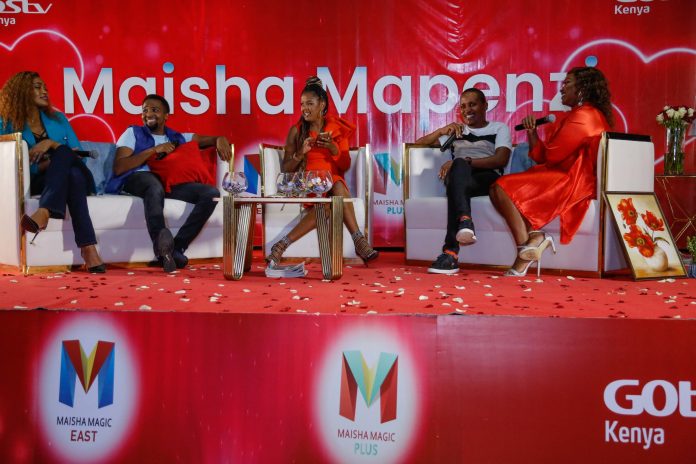 4 TV stars opened up on love and life – both on and off the screen – in a new interview  with Amina Abdi Rabar dubbed Maisha Mapenzi. They feature on various Maisha Magic shows.
They include Selina stars Pascal Tokodi and Peter Kamau, Single Kiasi lead actor Minnie Kariuki and Angie Mulay who hosts Our Perfect Wedding (OPW) and Our Fifth Anniversary.
So, here are the answers from your favorite TV stars on the roles they play, fame, love and more.
Pascal Tokodi
Considered one of Kenya's top actors, he plays Nelson in the hit Maisha Magic TV drama Selina. Tokodi who is married to media personality Grace Ekirapa revealed how not even a strict discretion policy could stop the photos from their wedding leaking.
He explained how he had to plan and shoot a music video days later in an attempt to throw the tabloids and fans off.
"It was a music video. Someone leaked our wedding photos and we had to put together a music video overnight to avoid the cameras. It was supposed to be a private wedding but one of our guests send the photos to social media against our will and the news broke online in hours. It is not what we intended for our wedding, and we had to get round to managing in in the best way we knew how."
"I know who it is. I have met him a couple of times. I have no idea why he leaked it because we tried to make it as private as we could because it was during Covid times so we just wanted to have a very small and simple ceremony so that when we are announcing, we are ready," he revealed.
Peter Kamau
Peter Kamau plays Biko on Selina. He highlighted various pitfalls that come with being a TV star, further revealing exactly why he chooses to keep his family and relationship matterers private.
The actor stated that he has previously encountered a few ladies unhappy about his interference with Selina and Nelson on screen. He further confirmed being in a long-term relationship.
"I like to keep my private life out of the limelight. I already share a large part of my life with my fans, and it can get overwhelming. I will not be sharing my private and family life with my fans because that is my escape. Being famous has many challenges, and for now I prefer to leave things as they are," he maintained.
Selina airs every Monday – Friday at 8.30pm EAT on Maisha Magic East (DStv 158, GOtv Channel 4) and Maisha Magic Plus (DStv 163, GOtv Channel 8 on GOtv Supa).
Angie Mulay
Angie Mulay is the host of the popular wedding series Our Perfect Wedding and its newly introduced spin-off Our Fifth Anniversary.
Mulay revealed the behind-the-scenes intrigues that come with documenting real life weddings on Our Perfect Wedding, such as having couples cancel the ceremony entirely.
Drawing on her own experiences, Mulay noted that she considered Our Fifth Anniversary as the show that truly depicted love and marriage.
"I have had to move shows because the weddings get cancelled or one of the partners changes their mind. Hosting a wedding show has however changed my outlook to love. I got married during the pandemic and continually seeing new couples celebrating their weddings is a constant reminder to me that a wedding is a ceremony, but a marriage is a lifetime commitment. When the lights go out and you are left with your partner to begin life, that is when true love begins. OPW for me is the glitz and glam, The Fifth Anniversary is the true reflection of what marriage is. I get to take these lessons with me every week," she stated.
Our Fifth Anniversary airs every Wednesday at 7.00pm EAT on Maisha Magic East and Plus, while Our Perfect Wedding premiers on Saturdays at 8.00pm EAT on Maisha Magic Plus.
Minnie Kariuki
Minnie Kariuki plays Maria in the Showmax series Single Kiasi. She highlighted her own experiences tied into her creative process as an actor.
"My craft is that I am an actor and that is what I do for a living. You can only inspire people, your fans and even the younger upcoming artists by through your success. My role on the show Single Kiasi and who I am as person are very different. I have had to deal with some very painful and deep experiences in my past life to be able to play the roles that I have featured on. Looking back and having to recover from those experiences have helped me authentically bring out some of the best scenes where I have been casted. My husband is also very understanding of what I do for a living and truthfully speaking, he has also benefited from it…if you know what I mean!" she stated.
Minne Kariuki and Charles Muigai aka Lugz Kenya held their traditional wedding (ruracio) ceremony on December 11, 2021.