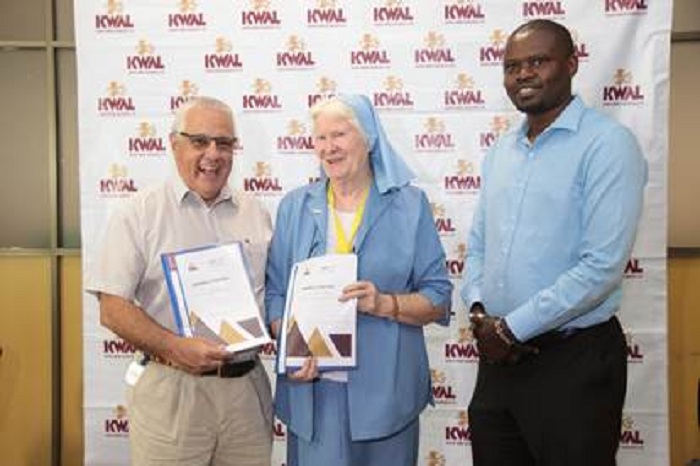 Kenya Wine Agencies Limited (KWAL) has signed a memorandum of understanding (MoU) with Mukuru Promotion Centre to rehabilitate street boys through an informal education and basic life skills trainings at the Mary Immaculate Rehabilitation Centre situated in Mukuru.
"As a responsible corporate citizen KWAL recogniSes that we have a social obligation to protect and enhance the welfare of the society in which we operate. We are partnering with the Mukuru promotion centre to ensure that we salvage the precious lives of young boys from our immediate back yard," said KWAL Managing Director Carlos Gomes during the MoU signing.
Sister Mary Killeen, Project Director at the Rehabilitation Centre, said: "We are grateful for the partnership opportunity with KWAL. Since the inception of Mukuru Promotion Centre in the 90s, our success can be greatly attributed to the fact that we work with the community to address societal issues. Today officially marks KWAL as part of the MPC community and MPC as part of KWAL's community.''
The MOU defines the agreement between MPC and KWAL for purposes of providing sponsorship in kind towards supporting the intensive rehabilitation programme that will encompass non-formal education, skills training, counselling and numerous outdoor activities facilitated at the Mary Immaculate Rehabilitation Centre.
Also present were KWAL Corporate Affairs Manager Gordon Mutugi , Silas Cheserek, the head of rehab department and Lucy Obiri, who is coordinator of health and social services at the centre.
Whereas KWAL recognises the need to integrate business values and operations to meet economic, social and environmental expectations of employees, customers, suppliers and the community. KWAL develops and supports community programs which are in line with its values and further promotes its recognition as an active contributor to local community development as outlined in the company's CSR policy.
The Mary Immaculate Rehabilitation Centre (MIRC) is a residential centre, under Mukuru Promotion Centre (MPC) established in 1995 with the objective to rehabilitate street boys and provide informal education and basic life skills whilst maintaining their dignity. MIRC provides counselling for their self-esteem and psycho-social support.
 MPC is a faith based charitable organisation that was established by the Sisters of Mercy in 1985, MPC started as a temporary school in the heart of the Mukuru slums and its key objective then was to provide education to the children of Mukuru to get them off the streets. Since its inception, MPC has expanded a great deal and now operates several projects that focus on four Key areas: Education, Health, Vocational Training and Social Rehabilitation.