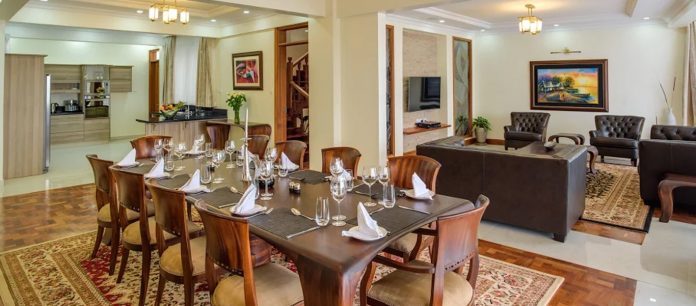 The Ethics and Anti-C********n Commission (EACC) has uncovered a paper trail it hopes to use to seize properties belonging to former Nairobi Governor Evans Kidero, among them the luxurious Gem Riverside Apartments in Nairobi.
In court, the EACC stated that funds from a fake legal contract were wired to at least 10 different entities. City Hall is said to have lost Ksh58 million in the s*****l.
Wachira Mburu Mwangi & Company Advocates received instructions to represent City Hall and was paid millions in legal fees. The firm's managing partner, Stephen Mburu, was paid Ksh58 million. He retained Ksh11.5 million then wired Ksh7 million to John Ndirangu Kariuki and Ksh15 million to Cups Ltd – associated with Kidero's former Chief of Staff George Wainaina.
According to EACC, Cups Ltd then sent Sh14.4 million to Kidero, who transferred the funds to Virji Meghji who was involved in the construction of the Gem Riverside apartments.
The serviced apartments include exquisite finishing, modern designs and even a pool. They attract rent of Ksh540,000 per month paid in dollars.
EACC wants one of the apartments held in trust on behalf of City Hall.
"In the alternative and without p*******e, a declaration that the plaintiff (EACC) is entitled to trace the aforesaid amount… into serviced apartments (known as Gem Apartments) on land parcel known as LR. No 205/46 within Riverside Area, in Nairobi County and that the 1st defendant holds the property in trust for the county government of Nairobi," the agency stated in court documents filed at the Anti-C********n Court.
According to EACC, the funds released by City Hall as legal fees were for a non-existent claim. A company whose very existence has been questioned, Kyavee Holdings,  filed the case against the defunct Nairobi City council over a land deal gone wrong.
"The legal fee claim was a fraudulent scheme set to defraud the county government of Nairobi as the said fee claim was founded on false claim, by a non-existent company and intentionally filed by an unqualified person with the intention of rendering the suit incompetent,"  EACC noted, maintaining that Kidero benefited from proceeds of c***e.
Others who received a share of the funds are  Paul Mutunga Mutungi, a former councillor, Runa Insurance which got Ksh10 million and Hannah Muthoni, the wife of Mr Mburu who received Ksh5.5 million.
Kidero's vast real estate holdings include hundreds of acres of lands, homes and apartments in prime areas. He is estimated to be worth Ksh9 billion.