A Kenyan delegation led by Trade Cabinet Secretary Betty Maina on Tuesday, December 8 signed a trade agreement with the United Kingdom.
The signing follows four months of negotiations as Kenya looked to secure a deal for the post-Brexit era.
After withdrawing from the European Union (EU), the United Kingdom continues to participate in the European Union Customs Union and European Single Market during a transition period that ends on December 31, 2020.
Maina disclosed that Kenya opted to secure the trade deal after delays in talks that involved other East African nations.
The Kenya-UK partnership agreement will shield Kenyan products from the 8 per cent duty they would have been charged once the transition period ends.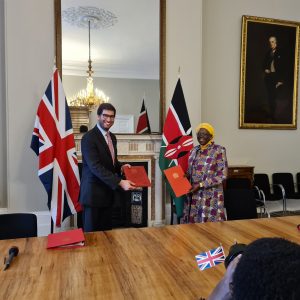 According to the Trade ministry, the deal is meant to forestall disruptions that would have been faced by Kenyan business, farmers and exporters once the UK left Europe.
The deal will be of special concern to farmers in particular as Kenya exports coffee, tea, vegetables, cut flowers and fruits to the UK,
In 2019, the country exported coffee, tea, and spices worth £121 million (Ksh17.9 billion) to the UK.
Kenya accounts for over 42 per cent of total tea exported to the UK. The UK market accounts for 43% of total exports of vegetables from Kenya as well as at least 9% of cut flowers.
The tariff-free market access is expected to offer a boost to farmers eyeing the UK market.
The official signing ceremony follows the conclusion of meetings between delegations from the two countries in early November.
The UK delegation was led by UK Minister for Africa James Duddridge, International Trade Minister Ranil Jayawardena and the Prime Minister's Trade Envoy to Kenya Theo Clarke.