Kenya has been ranked the eighth largest bitcoin trader in the world and the second in Africa having traded bitcoins worth Ksh6.16 billion between 2015 and 2020.
A report compiled by global bitcoin online marketplace Paxful that draws its findings from research conducted by Coin Dance shows that Kenya has been the eighth largest bitcoin trading destination in the world during the timeframe in question behind the United States (Ksh 418.539 billion), Nigeria (Ksh 63.154 billion), China (Ksh 20.209 billion), Canada (Ksh 14.612 billion), UK (Ksh 13.312 billion), India (Ksh 10.565 billion), Australia (Ksh 8.431 billion), Kenya (Ksh 6.162 billion), Philippines (Ksh 2.534 billion), South Africa (Ksh 2.110 billion).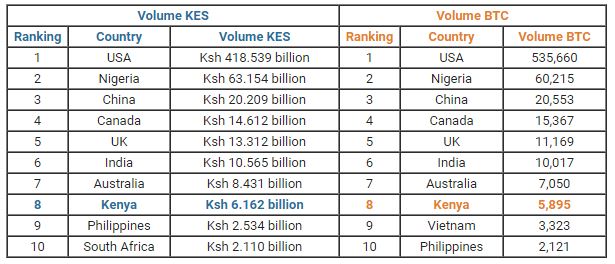 In Africa, Kenya is the second largest trading destination only behind Nigeria at (Ksh 63.154 billion).In Kenya's trail are South Africa (Ksh 2.110 billion), Morocco (Ksh 229.802 million) and Tanzania (Ksh 18.328 million).

The appetite for Bitcoin trading in Kenya manifested itself in 2020 when Kenyans engaged in Bitcoin trading than ever before despite the outbreak of the COVID-19 pandemic.
Thus far in 2020, Kenya has traded bitcoins worth Ksh 5.103 billion compared to Ksh 891.730 million in 2019, Ksh139.098 million in 2018, Ksh 26.958 million in 2017 and Ksh 1.102 million in 2016.
Conversely, there was been an increase in bitcoin trading from January to August, with August seeing an all-year high in trading (725.1 BTC)- the bitcoin volumes metric.
According to the report, August witnessed the highest trading volumes at (Ksh969.153 million).
In a statement, Maria Lustsikov, a PR Specialist at Paxful attributed the bitcoin trading growth during the course of the year to several factors.
"Kenya has been showing incredible growth this year. Firstly, Kenyans started recognizing arbitrage earning opportunities. Paxful recognizes arbitrage as one of the main reasons for the explosive growth. Crypto arbitrage takes advantage of the fact that cryptocurrencies can be priced differently on different exchanges, so users can buy on exchange for one price, and sell on the other exchange for profit. For instance, users are buying Bitcoin in Kenya and selling across borders using different payment methods," she said.
"Secondly, we have witnessed the unmatched popularity of using cryptocurrencies for remittances – it is much cheaper, faster, and more secure to send money abroad using Bitcoin. M-Pesa in Kenya is the desired payment method, users send or receive Bitcoin and exchange it via M-Pesa, which definitely contributed to the growth. Additionally, a number of Forex platforms stopped using M-Pesa so traders resorted to topping up their accounts with Bitcoin instead." Ms Lustsikov said.
"As crypto gains its popularity around the world, tech-savvy Kenyans were quick to hop on the bandwagon. Multiple crypto exchanges and platforms, including Paxful, have started putting more effort into educational and awareness campaigns in the region, cultivating a new generation of crypto traders and users. Nairobi became a fintech hub and the country overall is witnessing a massive digital and fin-tech boom. We also believe that Kenya's cross-border relationships with Nigeria, the main crypto volume driver on the continent, are inspiring Kenyans to take advantage of crypto trading and adoption." she added.
On the other hand, Brian McCabe, Head of Market Insights at Paxful noted that the recession caused by COVID-19 made people look for financial alternatives which made bitcoin an exciting proposition.
"The problem for them is if the coronavirus continues to weaken their currencies and make the USD stronger, the money will continue to flow out of these economies and their relative debt will increase. If emerging currencies continue to experience pressure, bitcoin could once again become the alternative if people are unable to preserve wealth in their own currency. This use case of wealth preservation in one of Paxful's core use cases given how much of our users are in emerging markets."