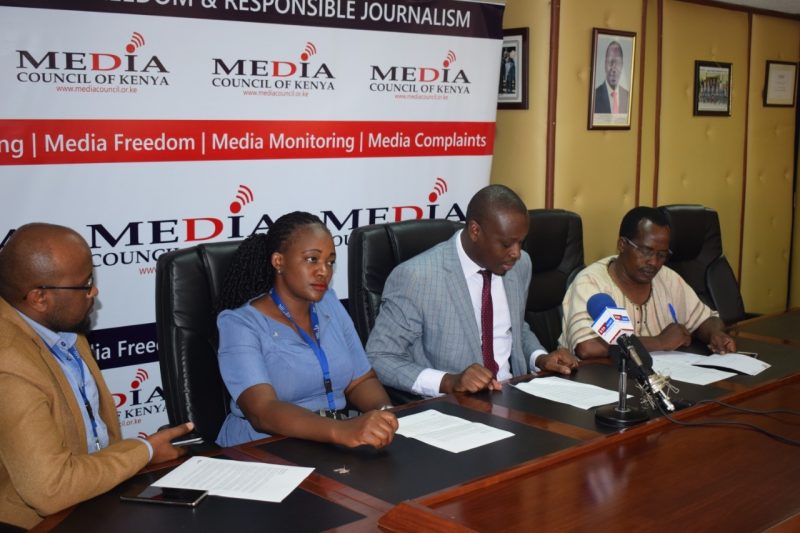 The fourth estate in the country says a trend of religious leaders intimidating media is worrying and that it is against the law for anyone to stand in the way of journalists doing their work.
In a j***t statement from the Kenya Union of Journalists(KUJ), the Media Council of Kenya (MCK) and the Kenya Correspondents Association (KCA), the media said it wants to raise the attention of the National Police and the Director of Public Prosecutions (DPP) as to what it termed as "direct threats to journalists as well as online b******g from their followers."
"It is not only against fundamental human rights but unacceptable and a breach of the law for the religious leaders to stand in the way of the work of journalists, including issuing threats that are meant to scare media from holding them accountable," the j***t statement read.
Under the Kenya Media Sector Working Group (KMSWG), the journalists claimed the "religious leaders and formations with questionable credentials" are now training their g**s on the media by "harassing journalists and curtailing free media in Kenya."
KMSWG said, "Media as the Fourth Estate has a duty to hold other estates, including the clergy, to account for their actions. The work of religious leaders impacts the society and the media must interrogate them on behalf of the public, which the two institutions serve, without fear or favour."
While taking exception to the behaviour of certain religious leaders, KMSWG pointed out Prophet David Owuor and Pastor James Maina Ng'ang'a as being the latest to "not only mobilized their followers to conduct smear campaigns against the media online" but also for warning journalists of "dire consequences".
"We are shocked beyond comfort that Mr Ng'ang'a, a man of God, has issued unspecified threats to journalists for calling him out."
The statement comes as the media has been reporting on some s******s that have rocked some churches, with spotlight having come on the lavish manner of Prophet Owuor's c******s.
[Read: Prophet Owuor preys big on his followers]
In recent times, Prophet Owuor has been linked to a multibillion-shilling property row with a bishop in his church, with the Star newspaper reporting that the man of cloth had issued a demand letter against the media house for supposed defamation in their expose.
"We wish to tell Ng'ang'a and Mr Owuor that journalists too are believers in God and no intimidation will stop them from pointing out ungodly activities taking place in places of worship."

KMSWG
Prophet Owuor's followers have also regularly flooded social media pages to accuse mainstream media of fake news whenever negative reports concerning their cleric are broadcast.
At the same time, an editorial by Royal Media Services Director of Strategy and Innovation Linus Kaikai in which he called on rogue religious leaders to become accountable to a being other than God, received backlash from a caucus of evangelical bishops.
Pastor Ng'ang'a also responded to the Citizen TV journalist by saying one does not need theological training so as to preach (as Kaikai had suggested) and that the former NTV General Manager would incur consequences if he did not stop insisting on certain regulations for churchmen.
[Read Also: Uhuru sports promis: New dawn or betraying game?]