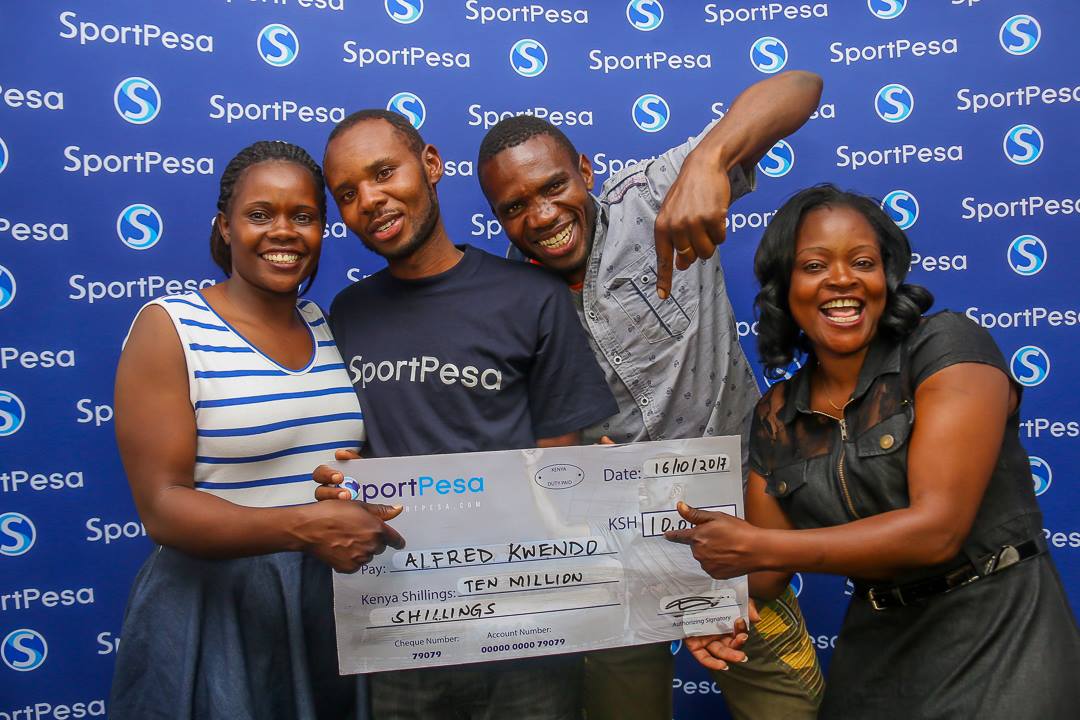 After three months of joblessness and hustling, 31-year old Alfred Kwendo's fortunes have turned for the better after a lucky guess earned him Ksh 10 million in last week's SportPesa Mid-week Jackpot.
Kwendo, who until late July was a cigarette salesman, correctly predicted the outcomes of all 13 matches in last week's jackpot. His win came a week after two other lucky players – Felix Mweki and Michael Odhiambo – shared Ksh 38 million in the previous week's Mid-week jackpot.
The young married father of two girls was accompanied by his relatives to collect the cheque at SportPesa offices in Nairobi. Kwendo narrated how hard it was to feed his young family, pay rent and fees after losing his job abruptly.
"I was sacked without any warning letter or notice. They said they will call me when they get something for me to do but the employer never called and it has been very hard to get by," he said.
"There is no secret to winning this, I can say it is all just God. If he says it's your day then it is," he added.
Kwendo, a Gor Mahia and Manchester United fan, guessed all his match predictions in his triumphant quest for the jackpot.
SportPesa's Assistant Marketing Manager, PR, Esther Kang'ethe congratulated the winner urging him to invest wisely to attain a safety net for his family.
"We are ready to help you with financial and legal advice so that you make the best out of your new fortune. We are humbled that through your engagement with us, you can now smile after going through so much over the last few days," she said.
Kwendo plans to invest in land among other things.