Centum Investment Company Plc on Friday, November 27 announced its half-year financial results for 2020/21.
Centum posted a Ksh1.7 billion loss for the period ended September 30, 2020 down from a Ksh6.7 billion profit recorded in the same period last year.
The drop was driven by a significant decrease in sales income which was buoyed in 2019 by Centum's sale of three Coca Cola bottling companies.
Centum's Private Equity (PE) business recorded a Ksh1.2 billion consolidated after-tax loss for the period ended 30 September 2020 compared to an after-tax profit of Ksh8.4 billion recorded for a similar period in 2019.
Notably, the group did not receive any dividends from portfolio companies where Centum holds minority stakes for the period ended 30 September 2020, with the companies opting to preserve cash amid economic uncertainties.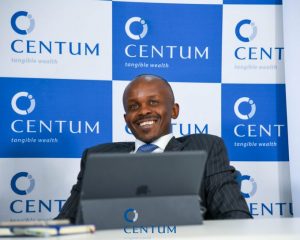 Centum noted, however, that some of the companies had since resumed dividend payments.
"The first half of the year was not conducive to concluding any transactions," CEO James Mworia explained in a virtual call with investors.
The company, however, expects to bounce back with one of its subsidiaries, Centum Real Estate, in the process of concluding land sales worth Ksh3 billion.
"Centum Real Estate Limited is in the process of completing land sales amounting to Ksh3 billion, which are currently under legal documentation.
"These sales are expected to be reflected in the financial statements for the year ending 31 March 2021," a report from the company read in part.
Centum Real Estate saw sales increase from 999 units at March to 1,086 units as of September 2020.
Deposits collected from ongoing projects rose from Ksh1.95 billion at March 2020 to Ksh2.6 billion at September 2020.
Tenancy at Two Rivers Mall, one of the group's prime assets, stood at 82 per cent despite the shocks of the p******c.
Mworia noted that the market had been depressed in the first half of the year occasioning various losses.
He disclosed that Centum's PE business would prioritize investments in established, cash-generating businesses with track records as opposed to early stage investments.