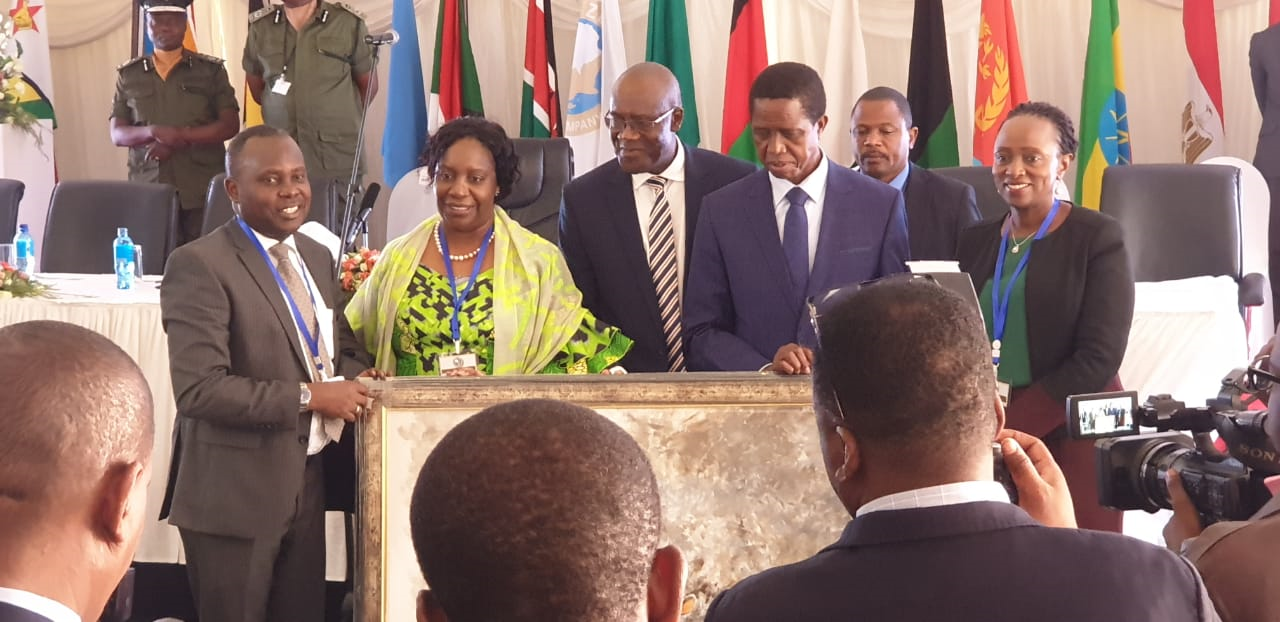 PTA Reinsurance Company, ZEP-RE has opened a multimillion-dollar Business Park in Lusaka, Zambia.
The facility, which will also house ZEP-RE Zambia offices, is the largest single investment by the Company in the Eastern and Southern African region since its establishment in 1990.
The nine-floor star-shaped-environmentally-friendly building was officially launched by Zambia's President Edgar Lungu who commended ZEP-RE and Common Market for East and Southern Africa (COMESA) for implementing infrastructure projects that will help further deepen regional integration and contribute to improving the living standards of the people.
"This investment, in addition to other achievements in the region are a clear example of ZEP-RE's commitment to real economic growth in our region. On my own behalf and of my country, we pledge to support ZEP-RE and provide all the necessary frameworks required for it to efficiently execute its mandate," President Lungu said.
Noting that Zambia was a founder signatory state to the agreement establishing ZEP-RE and a host country to the Company, President Lungu commended the company for making its largest investment in Zambia and for its initiatives to grow the insurance industry across the continent.
"I'm pleased with the initiatives by ZEP-RE aimed at the developing micro-insurance solutions targeted at low-income earners and small and medium-sized enterprises both in Zambia and across Africa," the President said.
Commenting on the investment, ZEP-RE Managing Director Hope Murera said the Company's founding mandate was to spur economic development in the COMESA region and as such, most of ITS investments were within COMESA countries.
"A significant portion of these investments are structured as syndicated loans to support government programmes such as infrastructure development. We have also channeled funds directly to member states by investing in among other things real estate and deposits in banks of the region. This new multimillion-dollar ZEP-RE business park in Lusaka is one such investment," Ms. Murera said.
ZEP-RE Chairman William Erio said the Company has so far underwritten premiums currently standing at US$1 billion with claims paid at US$700 million on cumulative basis.
"We are on the right track with our "I Believe" strategic plan as we work towards building a billion-dollar company. We have restructured the Company and positioned it in a growth path to achieve vision 2026 through increased footprint and developing our people,"Mr. Erio said.
COMESA Secretary General Chileshe Kapwepwe said ZEP-RE was a success story that every COMESA institution should emulate.
"ZEP-RE has championed a comprehensive financial inclusion and literacy programmes that will ensure sustainable socio-economic development and better standards of living," Ms. Kapwepwe said.
COMESA and ZEP-RE collaborates to strengthen the operations of the COMESA Third Party Motor Vehicle Insurance Scheme- Yellow Card and the Regional Customs Transit Guarantee operations.
Its objective is to grow utilization and efficiency of the cross-border trade instruments as ZEP-RE is the Reinsurance Pool Manager for both schemes.  The commissioning of the ZEP-RE Business Park coincides with the 25th Anniversary celebrations of COMESA.