It is 12 days since Central Bank of Kenya (CBK) Governor Patrick Njoroge unveiled new generation bank notes, in a move he said was meant to check illicit flows and counterfeits.
To achieve this, he announced the old Ksh 1,000 notes will be retired with effect from October 1 this year, allowing those holding them to change the notes into the new ones at their banks.
"We have assessed the grave concern that our large banknotes particularly the older Sh1000 shillings series. They are being used for illicit financial flaws in Kenya and even other countries in the region," Dr Njoroge explained.
Even as more and more Kenyans begin to encounter the new notes while undertaking various transactions, many are confused on how to differentiate the genuine ones from the counterfeits, which have already begun to trickle into the market.
"I know I will get them when I go to get new float. But if someone comes to deposit, how will I know they are the ones?" Anne Njeri, an M-Pesa agent posed following the introduction on Madaraka Day.
Security features in currency notes act as a deterrent and safeguard to minimise the risk of counterfeiting.
According to CBK, the public is encouraged to be aware of the available security features incorporated in genuine currency notes and to be able to distinguish between genuine and fake notes.
"Each genuine banknote incorporates a number of security features that make the counterfeiting of the currency notes extremely difficult," it says on its website.
The following are security features to be checked by each member of the public when it comes to the new generation banknotes: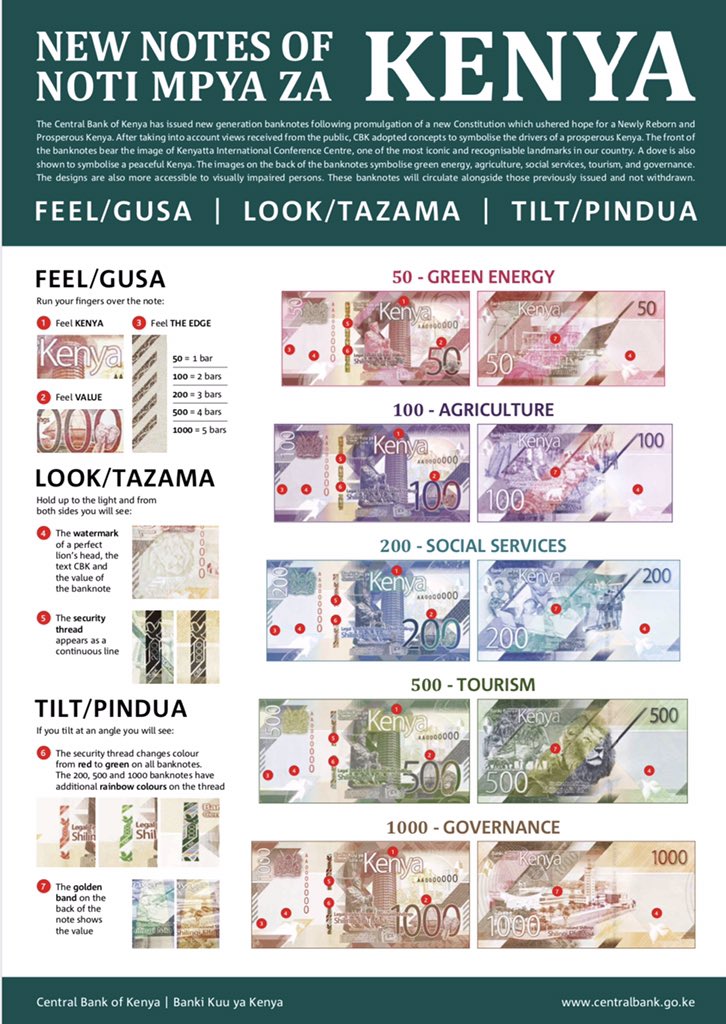 Source: CBK
Next: Nation seeks to overturn Sh4.2m award won by former editor