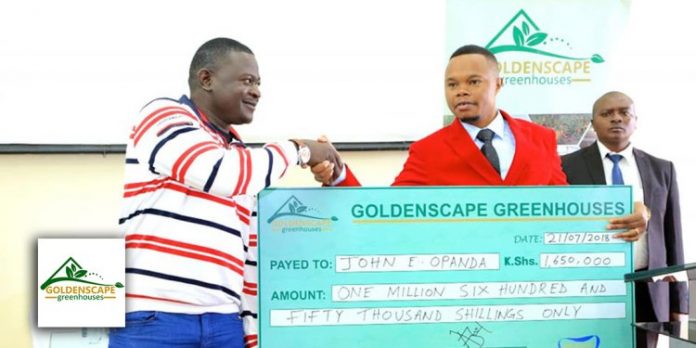 Properties belonging to Peter Wangai Muriithi, the director of Goldenscape Greenhouse Limited, have been frozen by the High Court in Nairobi pending the determination of a case filed by the Assets Recovery Agency (ARA).
Issuing the ruling, Justice James Wakiaga ordered for a caveat to be placed against six vehicles, five motorcycles and 15 land parcels owned by Muriithi and his companies. Wakiaga directed the Director-General of the National Transport & Safety Authority (NTSA) to register a caveat against the motor vehicles and the motorcycles.
The land parcels are spread across Laikipia and Kajiado counties.
The Assets Recovery Agency (ARA) accused Muriithi of involvement in money laundering, claiming that funds he obtained from the public were later wired to bank accounts, companies and business entities he owns.
Muriithi had in March been charged with obtaining millions from investors by false pretense. His company, Goldenscape Greenhouses, had promised investors hefty returns on a regular basis for investing in greenhouses.
The firm ran a glitzy marketing campaign, roping in media houses to air ads and live events. They assured clients that the greenhouses would be built in areas including Nyahururu and Ol-Kalou in Nyandarua County.
The firm was able to raise hundreds of millions of shillings from investors across the country.
It was only after they failed to receive their returns as promised that investors filed c******l complaints against the company and its directors, petitioning the government to help them recover their investments
Muriithi denied all 21 counts when he appeared before chief magistrate Martha Mutuku.
Many of the complainants in their statements claimed to have handed Muriithi over Ksh1 million, expecting returns of Ksh275,000 for each greenhouse every six months.
For instance, the charges indicate that he obtained Sh1.04 million from Eunice Mosiara on diverse dates between January 31 and September 19, 2019 for three greenhouses. The court also heard that he obtained Ksh1.99 million from Alice Waithera on July 12, 2019, for five greenhouses and Ksh1,840,000 from Douglas Ng'ang'a for four greenhouses.
The investors further sought to have the court compel him to deposit his passport, saying he was likely to flee the country.