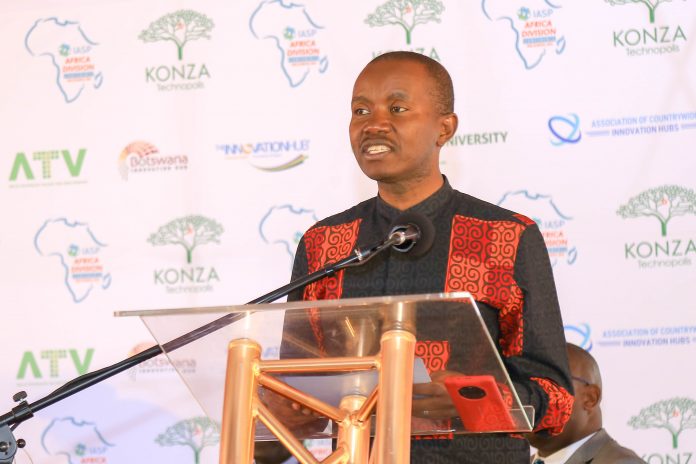 The government through the Ministry of ICT, Innovation and Youth Affairs is considering to set up a Startups Advisory Board to support the development of science parks and areas of innovation in the region.
This is according to the Cabinet Secretary for ICT, Innovation and Youth Affairs Joe Mucheru who was speaking on the second day of the annual International Association of Science Parks and Areas of Innovation (IASP) Africa Division Conference at Konza Technopolis.
During the two-day hybrid event themed "Science Technology Parks & Areas of Innovations as Catalysts for Sustainable Growth in Africa", CS Mucheru lauded the innovator's efforts and noted that the Board will support more startups that are key to accelerating the digital economy.
"I would like to appreciate the efforts on innovations that this conference has showcased. One thing I would like to recommend is that we need to have a Startup Advisory Board. The board that we have currently at Konza Technopolis aims at developing the infrastructure, but we need a board that can handhold our startups to develop them"
CS Mucheru added: "I was very pleased to see the demonstrations that were put forward by the innovators. We need to find ways of investing in these startups and this Board will make sure that we have the right industry players to come and engage with the young startups"
He also noted that the government remains committed to working closely with other partners like Huawei Technologies to build skills database in the country. He noted the database will help to identify skills gaps and taking action to bridge the gaps, resulting in advancement in the development of science parks and areas of innovation.
During the event, Dr Sara Ruto, Chief Administrative Secretary, Ministry of Educatįon who read CS Prof. George Magoha's remarks called upon stakeholders in the ICT and educatįon sectors to collaborate for better economic results. She, on behalf of the Educatįon CS, noted that the establishment of Kenya Advanced Institute of Science and Technology (KAIST) at Konza will bring more innovators into the country and accelerate the development of Africa's economies.
"We also need institutions where researchers can collaborate on projects that will benefit both countries. Projects like Konza's KAIST which aims to bring together the best minds from across the region can help us in advancing towards more discoveries in science and technology" she said.
On her part, the ICT, Broadcasting and Telecommunication Chief Administrative Secretary (CAS) Maureen Mbaka who opened the event on Monday lauded the effort by Konza Technopolis and drummed support for government innovation initiatives such as Whitebox and the Girls in ICT that continue to engage innovators in the country.
"We have continued to rally innovators, especially young women and girls to take up the STEM opportunities to drive our digital economy. As a result, we continue to rally other stakeholders in the industry to increase partnerships to grow innovation in our country and Africa," said Mbaka.
On his part, Eng. John Tanui, President, IASP Africa Division and CEO of Konza Technopolis Development Authority (KoTDA) lauded Africa's innovation spirit and noted that the IASP conference provided yet another chance to build the knowledge economy of Africa.
"The role of science parks is quite very significant across the world. This is where the greatest ideas turn into solutions for the biggest problems in the world. Science parks have become the areas where economies are driven. With over 500 delegates at this conference, I am delighted that the academia and innovators have showcased various solutions during this conference. The relationship between these stakeholders is what is going to transform our continent in terms of creating knowledge and wealth as a continent," said John Tanui.
On her end, Maureen Mwaniki, Vice Director, Programs Management at Huawei Technologies lauded the IASP initiative by Konza Technopolis, noting that it is through such forums that technology development in the country can be achieved.
She noted that in the past year, Huawei Kenya in partnership with other organisations like Konza Technopolis has impacted over 20,000 students. She added that in the next year, they would like to impact more than 23,000 beneficiaries in innovation programs.
Other leaders who attended the event include Ebba Lund, CEO, IASP, Pieter Holl, CEO, Innovation Hub South Africa, Tshepo Tshepo, Ag, CEO, Botswana Innovation Hub, Arch. Dr. Reuben Mutiso, Chairman KoTDA and Prof. Peter Mwita, Deputy Vice-Chancellor Machakos University of Science and Technology, Prof. Ndirangu Kioni, Vice-Chancellor, Dedan Kimathi University of Technology (DeKUT).
Read: Stanley Kinyanjui: Billboard Billionaire Cashes In on Politics
>>> Lipa Later On-boards Hotpoint As New Electronics Partner