Kenyan journalist Patrick Mayoyo emerged runners up during the 10th KC Kulish Awards held on September 18 in New Delhi, India for his expose on how World Bank loans to Rift Valley Railways (RVR) were stolen by a rail company in Kenya and Uganda.
Mr. Mayoyo was edged by controversial Ghanaian investigative journalist Anas Aremeyaw Anas who won Ksh1.1 million in prize money for his Anas Floors Derry piece published in The New Crusading Guide newspaper which exposed runaway corruption in Ghana's Judiciary.
The two journalists however were not present at the ceremony. Indian journalist Sameer Tembe received the award on behalf of Mr. Anas.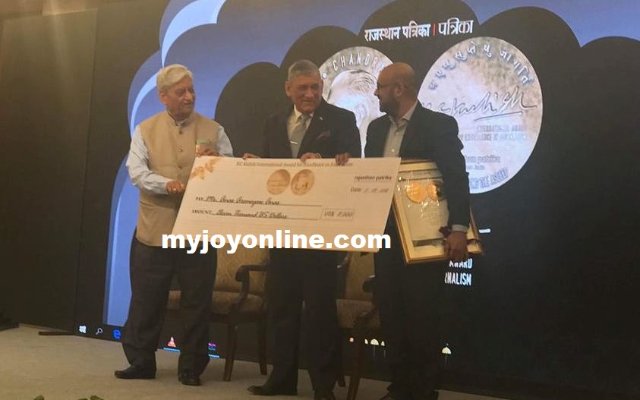 Mr. Mayoyo was in contention for the global journalism award for his story published in the Sunday Standard on July 2, 2016 titled "Rift Valley Railways under probe for use of World Bank billions".
The expose detailed how the World Bank was investigating RVR over misappropriating funds by purchasing used SGR locomotives at inflated prices instead of buying new ones as per the terms of agreement of getting the loan that the World Bank helped arrange.
Mr Mayoyo, a former deputy news editor with Daily Nation is the current editor-in-chief of Daily Reporter, an online publication, as well as the Kenyan content editor for Indian publication The Pebble.
READ : KENYAN JOURNALISM AWARDS 2018 : FULL LIST OF WINNERS
In 2017, the investigative piece also won Mr. Mayoyo The Nobert Zongo Investigative Journalism Prize.
The award that fetes best journalism practices in Africa is named after Nobert Zongo who was the editor of the weekly newspaper L'Ind'ependant in Burkina Faso who dedicated his professional career to uncovering the truth.
Mr. Zongo was assassinated in 1998, at the age of 49, while investigating allegations linking the brother of then Burkina Faso President Blaise Compaor'e, to a high-profile unresolved murder.
SEE ALSO : KENYANS BAG 2018 AFRICA MAGIC VIEWER'S CHOICE CHOICE AWARDS