Since its launch two years ago, TV47 has been steadily growing its audience and influence in the television industry. With elections beckoning, the station has invested in modern studios, equipment and talent to deliver news and other programmes to its audience across the 47 counties.
TV47, a free-to-air 24-hour television channel, is based in Nairobi. It was officially launched in July 2019, and has studios in Nairobi and Momba­sa. The station has a national reach throughout the 47 counties and is redefining how county stories are told.
Owned Prof Simon Gicharu, a Nairobi-based businessman and founder of Mount Kenya University, TV47 started its journey in 2014 in Kigali, Rwanda. It was a known as Lemigo TV, a news and entertainment terrestrial channel broadcasting from Rwanda's capital.
Upon acquisition by Cape Media Ltd, the television station was domiciled at sister institution, Mount Kenya University – Rwanda and changed its name to Royal TV. Royal TV under the wings of Mount Kenya University-Rwanda shifted its broadcast philosophy from purely commercial to a practical tool for training students in the Department of Journalism and Mass Communication.
It complemented the university's radio station Royal FM in offering the complete training on audio-visual broadcast. Royal FM was Rwanda's first English-only radio sta­tion licensed by Rwanda Utilities Regulatory Agency (RURA) to broadcast in Kigali and beyond.
Owing to the realities of the television media landscape in Rwanda, whereby 80% of preferred broadcast is radio (RURA, 2015), Royal TV opted to migrate its TV-for-Ed­ucation model to Kenya. The new station was named TV47. The name was coined to signify its focus and footprint across the 47 devolved units that make up County Gov­ernment in Kenya. TV47 is fully licensed by the Communication Authority of Kenya.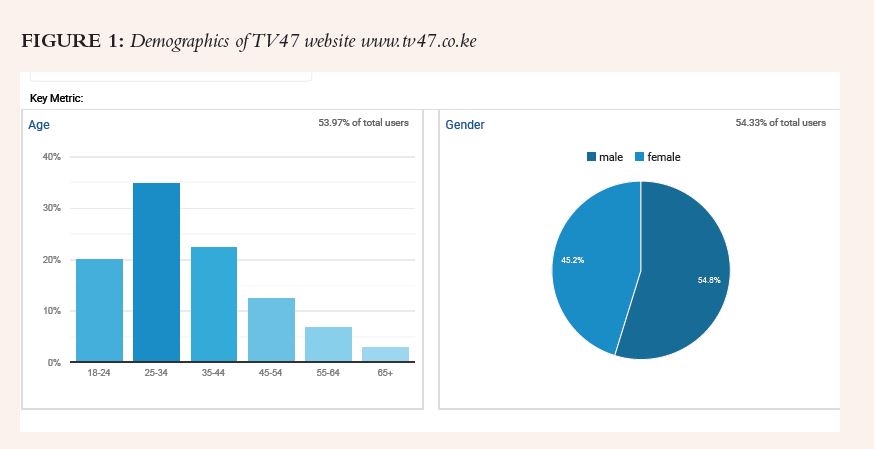 TV47's main studios and corporate offices are at Ojijo Close in Parklands, Nairobi. This is the television station's nerve centre, where the main production and broadcast activities are coordinated from.
Building on its founding philosophy of incorporating E*******n with News Gather­ing, TV47 sought to carve a niche in local broadcasting by telling the "Untold Stories" in the 47 counties in Kenya. It bolstered its broadcasting equipment portfolio to in­clude state-of-the-art studios in Nairobi, and Mombasa in the coast region of Kenya.
Mombasa Studio
The studio is kitted with the modern equipment and manpower that enables it to autono­mously broadcast news and live events. It is located at MKU Plaza, Nkrumah Road, at the heart of Mombasa city. The studio was commissioned in October, 2020.
TV47's avant-garde equipment also includes Portable Live-U gear for broadcasting live, and a fully-kitted outside broadcasting van.
Live Activation & Road Shows
The station has a fully-customized truck (mounted with sound system, power generator, deejay equipment, and microphones) for shining its brand. TV47 has diverse menu of programming that predominantly targets people aged be­tween 18 and 45 years.
This programming includes: News & Current Affairs, University & College Lectures, Political Talkshows, Documentaries, Soap Operas, Music Shows, Business, Sports as well as Live Reporting and Contract Broadcasting, among others. It is available on DStv Bamba, Signet and Star Times.