Gabriel Anzala's leap into the lucrative world of skins and hides
The leather industry in Kenya, mainly dependent on large livestock resource base with an estimated population over 18 million cattle, is thriving. The sector's contribution to the economy stands at Ksh10.6 billion and creates employment to more than 22,540 people directly and indirectly, according to statistics by the Kenyan Rome embassy.
Gabriel Anzala, 34, is one of the practitioners benefiting from the industry. He has three years and still counting at the helm of Gonzala Leathers, a leather company founded in 2013. The soft-spoken inspirational leader opens up to Business Today on a chilly Saturday and shares the story behind the fast-growing leather business along Nairobi's Ngong Road. He stitches a few handbags as we converse.
He learnt the art the hard way through the hands of 'an Asian friend' who took him to a vocational school after his dreams of pursuing a career flopped due to lack of fees. At that time he had no idea that on a day like this in 2016, he would be smiling all the way to the bank courtesy of leather work, some not so clean materials fetched from the outskirts of Kibera slums and tanneries in Limuru.
"After I got a job at a leather company, I worked for 3 years as I learned the skill. While there, I spotted an opportunity, something we were not doing at the company," he says.
Gabriel Anzala says he then resigned from employment due to its cagey nature and embarked on a journey to nowhere, which fortunately landed him on his personal business – making him an entrepreneur, an employer and mentor.



"Most people came in with a desire to custom-make their own designs but were turned away. I resigned and became a private designer. I learnt it the hard way using cheap material with the help of the internet. Amazingly, this grew to become Gonzala Leathers," says Anzala says.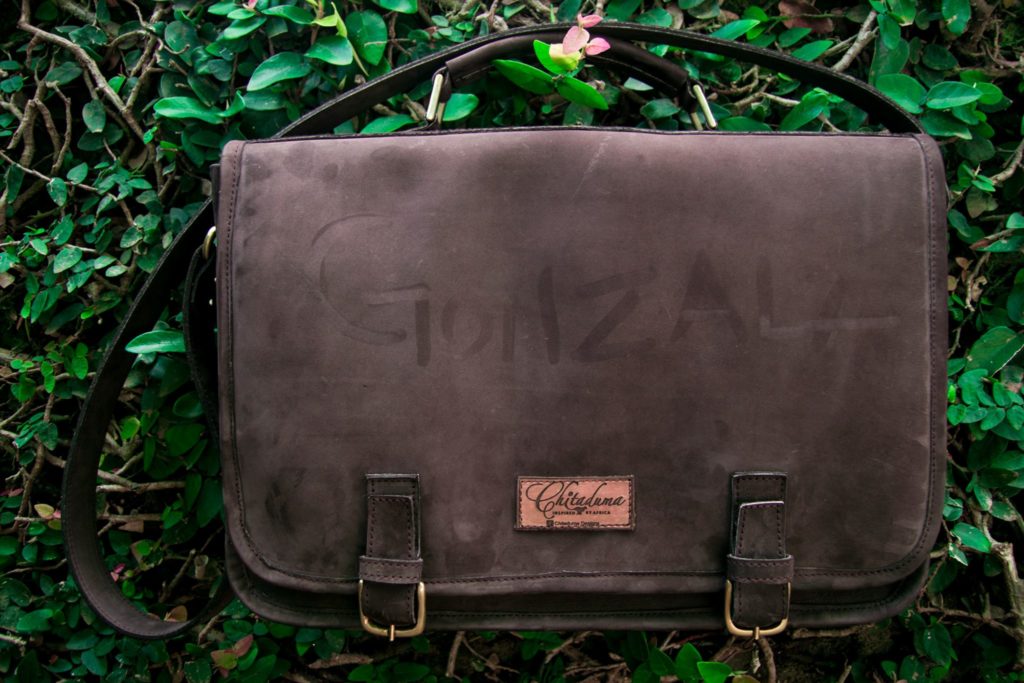 Huge investment into the industry has seen leather goods and footwear sub-sectors in Kenya register growth. There are 25 enterprises engaged in formal footwear and leather goods manufacturing entities, and so is Gonzala.
The journey between conception and birth of Gonzala Leathers is much intertwined between fortune and favour from God as he says, which enabled him to save over Ksh300,000 shillings to start the business. "While doing the design project I had a lot of favour that I got many orders some of which I could not do because I did not have good machines. I paused a bit and went to look for another route this time as a designer."




He sits at the helm of a company whose future looks bright, the exact opposite of the blurred background that rested on who did what where. As a young CEO, he not only oversees the making of products such as handbags, belts, and folders among others but also sits down on sewing machines to make stitches that pay his bills and build the economy.
For him, alongside his seven employees, the business is far from done when you have skins and other raw materials. Final quality sells the brand, now valued at millions of shillings. "I learned these things the hard way, I must protect it through offering the best. Quality is our priority," says Anzala.
As a typical Kenyan youth, at a prime age of shaping his destiny, he tells the like-minded to up their game and create jobs as opposed to being endless seekers. To turn ideas into reality, he says they can take advantage of the internet to boost productivity.
His customers range from upper, middle-class to small companies seeking design and production services. "It pays well, now in millions. We get our customers through referral, online marketing and exhibitions and we want to be the best designer leather goods company in Kenya and the region," he adds.
Producing up to over 700 folders a month, Gonzala Leathers is evidently on the verge to greatness, having been built on the pillars of determination, friendship and ability to close ears to discouragement.
Images: Gonzala Leathers